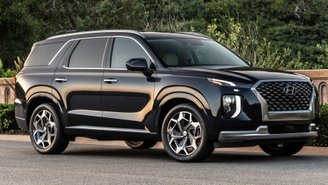 If you're looking to buy a 2023-model-year vehicle, you may not have to wait around for long. That's because we're already seeing a handful of 2023 cars, trucks, and SUVs hit the market this spring. However, 2023 release dates can greatly vary by make and model.
For example, Land Rover has already opened orders for its 2023 lineup, including the recently redesigned Range Rover. Similarly, Mazda dealers are taking reservations for the 2023 CX-50, while the all-new 2023 Kia Sportage is set to begin arriving very soon.
Not every car brand has release dates in the spring and fall. After all, Nissan didn't release some of its 2022 lineup until earlier this year. To put that into perspective, Kia began selling vehicles like the 2022 Carnival minivan and Stinger sedan as early as in March of 2021.
A chip shortage has forced shoppers to consider delaying their purchase with options like factory orders. In some cases, dealers are taking reservations months in advance. We're even seeing incentives for waiting like a $1,000 Ford custom order discount.
CarsDirect tracks hundreds of upcoming models, leveraging production data and official announcements to provide up-to-date vehicle release information. Our team of experts also provides monthly updates on the best deals for buying & leasing.
Knowing a vehicle's production schedule could give you an advantage. For example, we often find that GM models arrive roughly 2-3 months after the start of production. Toyota dealers generally know about vehicle allocations in advance.
If you expect to have an expiring lease, some brands can offer lease extensions and, conversely, may even be able to let you out of your lease early. For example, Ford offered lease extensions to those affected by Mustang Mach-E delays.
Your local dealer may offer the ability to place a deposit to save your place in line, although you'll usually still need to place a firm order with a dealer closer to the start of production. Be sure to explore all your options before making a decision.