If you're looking to buy the latest & greatest car or SUV, odds are you'll want to wait for a 2022 model. However, the pandemic has already delayed some noteworthy release dates and much remains uncertain about when 2022 cars & trucks will actually go on sale. Here's a look at what you can likely expect in the coming year.
When will 2022 cars go on sale? Expect new 2022 model year cars & trucks to go on sale starting in early 2021. For reference, the first cars to go on sale earlier this year were the all-new Kia Seltos and redesigned Jaguar F-TYPE. Both became available as early as February before the snow had a chance to melt in some parts of the country. New additions like the 2021 Chevy Trailblazer followed soon thereafter.
The biggest release dates typically occur around spring or fall. For example, the redesigned 2022 Honda Civic is due to go on sale by late spring of 2021. Having said that, some manufacturers have only offered very limited info. In the case of the 2022 Genesis GV70 — the brand's first small luxury SUV — potential buyers are being told to wait until sometime "in 2021." Expect details to come into focus in the months ahead.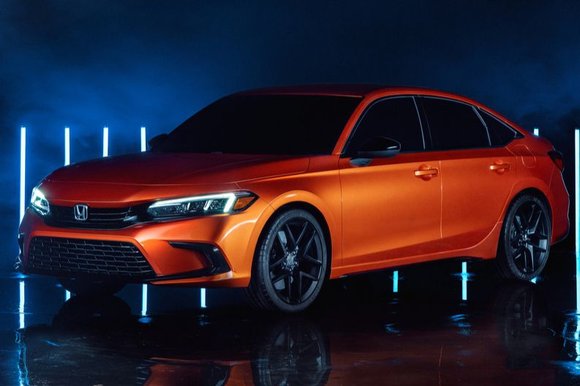 Has COVID-19 affected new car releases? Manufacturers have had to delay release dates and alter their launch timing considerably. For example, Acura decided to skip the 2021 model year altogether leading up to the arrival of the redesigned 2022 MDX. Meanwhile, a major refresh for the Chevrolet Equinox was actually pushed back to the 2022 model year. In Ford's case, a new plug-in version of the Escape was delayed by a year.
To further complicate matters, an inventory shortage compelled automakers to discount 2021 models more than normal. As a result, shoppers may encounter cases in which a model year is surprisingly short. In what may be the most extreme case, just over 4 months passed between the arrival of the all-new 2020 Hyundai Sonata Hybrid back in June and the virtually identical 2021 Sonata Hybrid in October.
What 2022 redesigns are worth waiting for? The 2022 Hyundai Tucson is set to arrive in the first half of 2021 and will feature a bolder, upscale look compared to the 2021 Tucson. On the sporty side, Nissan will attempt to bring its Z coupe back to relevance with a retro-inspired redesign. Meanwhile, Audi's most affordable car will skip the 2021 model year and debut a major redesign as the 2022 A3.
That said, there are already a ton of exciting vehicles available as 2021 models. For example, the value-oriented 2021 Kia Sorento benefits from a complete update and offers a first-ever hybrid rated at 37 mpg. Additions like the 2021 Mazda CX-30 Turbo promise greater performance while the all-new 2021 Ford F-150 recently arrived this fall and offers truck buyers more capability than ever before.
When will 2021 cars be discounted? Surprisingly, 2021 rebates are already surprisingly good despite production interruptions earlier this year. Manufacturers have been offering seasonal deals like Employee Pricing and 0% financing on even their newest models. We expect this trend to continue. That said, the spring and fall tend to be a good time to scoop-up deals. Even better, look for models with an upcoming redesign.
In the months ahead, that could involve taking a good look at deals on the 2021 Honda Civic, 2020 Acura MDX, and 2021 Chevy Equinox. If you're looking to lease, expect to see offers improve on the Hyundai Tucson. We'll be on the lookout for the latest deals as information becomes available.