With city-friendly proportions and prices starting close to $20,000, subcompact SUVs have become a popular option for prospective buyers who may have gravitated to more traditional cars in the past.
However, our analysis indicates these relatively bargain-priced vehicles can often be surprisingly expensive to lease. In some cases, upgrading to a larger (and nicer) vehicle may actually be more affordable.
Here are some examples.
Rogue vs. Rogue Sport
Here in Los Angeles, the 2017 Nissan Rogue Sport S AWD is listed at $159 for 36 months with $4,499 due at signing, reflecting $1,300 in factory lease cash. With an MSRP of $24,610, this equates to an effective cost of $284/month.
At the same time, the 2017 Rogue S (also AWD) is being advertised at $199 for 36 months with $3,049 at signing, including $3,275 in discounts. The effective cost of this lease? Also $284/month.
So even though the Rogue is $2,520 more expensive, it has the exact same effective monthly cost because of a night-and-day difference in the level of discounts Nissan is offering.
In a way, it's like having the option to enjoy a free upgrade. The Rogue is also better-equipped, especially if you can find a 2017.5 model with automatic emergency braking.
But wait, there's more.
Late last week, Nissan added a $500 holiday bonus on the Rogue. When applied to the down payment, the effective cost falls to just $270, a $14/month advantage over the Sport.
Renegade vs. Cherokee
For another example, consider the Jeep Renegade. Or don't, at least if you're thinking about leasing.
The 2017 Renegade Latitude is currently listed at $219 for 48 months with $4,899 due at signing. That equates to an effective cost of $321/month for a vehicle with an MSRP of $24,120.
For that kind of money, you could lease an over $30,000 Jeep Cherokee.
The 2018 Cherokee Limited is listed at $219 for 36 months with $3,499 at signing, which equates to an effective cost of $316/month. That's $5/month less for a vehicle that's $6,770 more expensive.
Based on our analysis, there are several important reasons for this, all of which are slightly horrifying.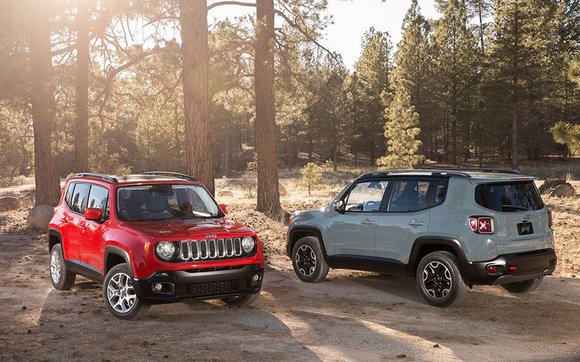 The Renegade is eligible for $2,750 in lease discounts compared to $4,000 with the Cherokee. There's also a massive difference in residual values of 51% for the Cherokee and a rather shocking 35% for the Renegade.
The underlying money factors are different as well. The Renegade has a money factor of 0.00150, which equates to an interest rate of 3.6%. The Cherokee is listed at 0.00008, akin to 0.2% APR.
There are a number of other examples, too.
Earlier this month, our analysis of over 550 leases found that the Mazda CX-5 was just $10 more to lease than the smaller CX-3 despite being $3,935 more expensive on paper.
Similarly, the Toyota RAV4 benefits from a surge in discounts in January and is now just $10 more to lease than the smaller C-HR despite having a price tag that's nearly $2,000 more expensive.