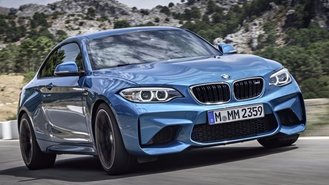 BMW is known for building cars with grin-inducing performance, and the M2 is no exception. However, when it comes to deals, the sporty coupe is one of the worst possible choices if you're planning to lease.
Apart from a horrendous residual value, the car is excluded from discounts. As a result, it can actually be more expensive to lease than the much pricier (and more powerful) BMW M4.
Here's a look at why this is the case.
An Expensive Proposition
Here in Los Angeles, the 2017 BMW M2 Coupe is advertised at $859 for 36 months with $4,784 due at lease signing. That's based on an MSRP of $55,595 and a standard allowance of 10,000 miles of driving per year.
When you factor both the payment and amount at signing, the car's effective lease cost comes in at $992/month. If that seems like a lot, it's because it is. As it turns out, it's actually more costly than a 2017 BMW M4.
The $69,795 M4 Coupe is listed from $739 for 36 months with $4,664 due at signing. It features the same mileage allowance and has an effective lease cost of $869/month.
But wait, how can a car that's $14,200 more expensive be $123/month cheaper to lease? Part of the reason has to do with the underlying assumptions of each offer.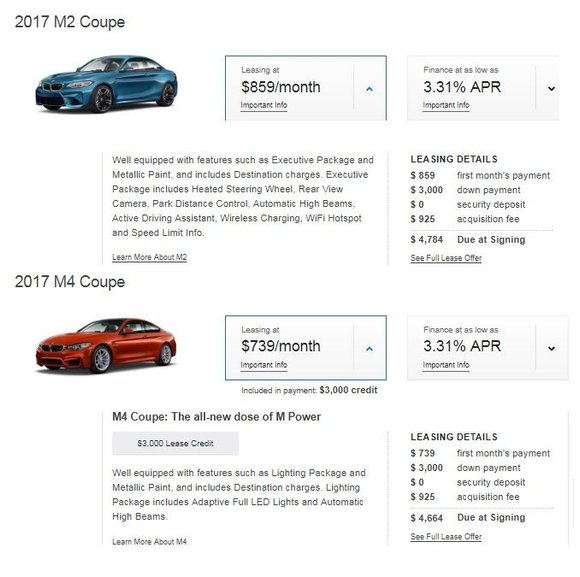 A Closer Look
BMW's program bulletins reveal that the M2 has a rather depressing 42% projected residual value after 3 years. To make things worse, the car is excluded from a $2,000 lease incentive that you'll find on every other 2 Series model.
On the flipside, the M4 has a more respectable 58% residual after 36 months and is eligible for the same $3,000 lease credit offered on all other 4 Series models like the 430i, 440i and others.
So why is there such a large difference? The most likely reason could be the M2's scarcity. Based on our analysis of national inventory listings, the M2 happens to be extremely hard to find in stock.
In contrast, the M4 is a lot easier to find and is consequently eligible for far better incentives that could save you big money over the course of a lease compared to its smaller stablemate.
Compare Side-by-Side: BMW M2 vs. BMW M4 »