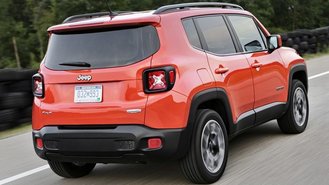 Value-oriented shoppers will find it's a great time to buy an SUV, with a slew of affordable choices around $20,000. However, our analysis finds that choosing the cheapest SUV may not be as easy as you think.
We've found instances in which simply adding a few must-have options can boost your price well over $4,000 beyond what's advertised. In some cases, discounts can make it cheaper to lease a more expensive vehicle.
Here are some quirks worth knowing about.
Jeep Renegade
The 2018 Renegade Sport 4x2 has an MSRP of just $18,445, making it the cheapest SUV you can buy— at least on paper. Unfortunately, there are a ton of catches that can diminish its appeal.
At that price, you'll be getting a Renegade with a manual transmission and the less-powerful 1.4-liter engine rated at 160 hp (vs. 180 hp with the automatic). Opting for the automatic adds $1,330. The destination charge adds $1,445.
But wait, there's more. In base form, the Renegade doesn't come with air conditioning. Whether you want it or not, Jeep bundles it with the automatic transmission. That'll be another $1,495.
Altogether, you're looking at $22,715, or $4,270 more than the price that's advertised. Rebates range from $2,500 to $4,000, but higher trims are the only ones eligible for the $4,000.
Learn more about the Jeep Renegade »
Nissan Kicks
With an MSRP of $18,965 including destination, the Nissan Kicks is incredibly affordable. Considering you're getting advanced features like automatic emergency braking at no extra charge, the Kicks may look awfully good on paper. That is, unless you're going to lease.
That's because it costs the exact same amount of money to lease as a Nissan Rogue that's over $6,300 more expensive. Here in Los Angeles, the Kicks SV is listed at $235 for 36 months with $1,999 due at signing, an offer based on an MSRP of $21,200 and with an effective cost of $291/month.
At the same time, the Rogue S is advertised at $199 for 36 months with $3,299 at signing. Its effective cost? Also $291. That's based on an MSRP of $27,560 and is before a $500 holiday bonus available through July 31. We consider the Kicks a great value, just not when leased.
Learn more about the Nissan Kicks »
Hyundai Kona
The Kona boasts a funky new design and starting MSRP of just $20,480. Although you have to upgrade to an SEL to get access to advanced safety features, entry-level SEs come with nice features like smartphone integration.
However, our analysis shows that a difference in discounts makes the Tucson a cheaper vehicle to lease.
This month's featured deal is on the Kona SEL at $199 for 36 months with $2,399 due at signing. That's based on an MSRP of $22,100 and comes out to an effective cost of $266/month.
However, the Tucson SE is advertised at $199 for 36 months with $1,899 at signing, an effective cost of $252/month. It has an MSRP of $23,530, which means the Tucson is $1,430 more expensive on paper but $14/month cheaper to lease.