Dealer markups will continue to affect new car buyers in 2022 as long as demand outpaces supply. Unfortunately, inventory isn't expected to return to pre-pandemic levels for quite some time as automakers grapple with supply chain problems and a chip shortage. This could significantly affect the prices consumers pay for cars.
Over a year after the semiconductor shortage first made headlines, new car prices remain high in many parts of the country. Even in the first days of 2022, popular vehicles like the Toyota RAV4 Hybrid are being advertised with as much as a $2,500 dealer markup as shown in the following screenshot taken today online.
This type of markup can have an impact on your budget for years to come. For example, a $35,000 SUV would cost roughly $39,311 at $546/month based on a 6-year loan at 3.9%. With a $2,500 markup, the same vehicle would cost $42,119 at $585. On certain high-demand vehicles, markups can easily reach $10,000.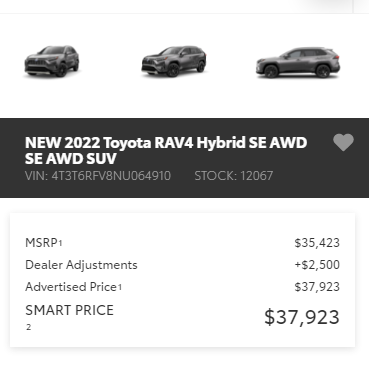 When researching prices, look for language like "market adjustment," "dealer adjustment," "ADM," or "additional dealer markup." The concept of a markup isn't new, and dealer markups aren't going away. What remains to be seen is how much prices will improve as automakers get back on track with new car production.
While there can be ways to avoid a dealer markup, your options for doing so could be limited based on availability in your area. Some dealers do have a policy of not selling cars above MSRP. However, you may need to do some comparison shopping to find a dealer willing to sell the car you want for the price you expect.
In some cases, dealers may not be able to honor lease prices you see advertised by an automaker. That's because availability can vary and dealers have discretion over how much a car actually sells for. As we saw last year, some brands are going to unusually extreme levels by not even bothering to advertise lease prices.
We recommend checking with multiple dealers to get the best deal possible. In addition, manufacturer incentives change monthly, so be sure to look for the latest lease deals, rebate offers, and loyalty discounts. Under the right circumstances, this may help offset some of the pain of paying a premium during this time.