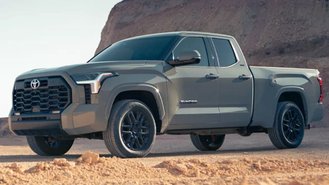 Shoppers should expect new car prices to remain high well into 2022. According to a report from Cox Automotive, new vehicle inventory may improve but is likely to remain historically low. Coupled with a continued trend for sales to favor more expensive SUVs and trucks, average prices may not go down anytime soon.
Real-world prices heavily depend on local availability at dealers. While there are ways to avoid a markup, we think it's likely that dealer markups may not go away in 2022. Not long ago, it wasn't unreasonable to pay well below invoice in competitive car markets or to enjoy factory car incentives worth 20% off MSRP.
A year ago, dealer incentive bulletins reveal Toyota offered an unadvertised dealer cash incentive worth $2,500 on the Camry in regions like the Southeast. That's no longer the case. We're also seeing considerably fewer volume-based incentives offering to pay big bonuses to dealers for achieving the most car sales.
Consumers have become more comfortable paying at or above MSRP due to market conditions. While production issues due to a chip shortage are expected to improve, inventory will likely see constraints shoppers may not have had to experience the last time they were in the market to buy or lease a new car or truck.
Your best bet for getting a deal could be to take advantage of manufacturer incentives. For example, Toyota is continuing to offer 0% financing on the all-new 2022 Tundra in some parts of the country. Meanwhile, the cheapest lease deals can often get you access to incentives you may not be able to get when purchasing.
Don't see the car you want in stock? Consider putting down a deposit for the car or truck you want. In a seller's market, buyers may find themselves in a competitive situation that can make it harder to find a car in stock. Factory orders may be an option, and placing a reservation can be a way to save your place in line.
In some cases, manufacturers are paying buyers to wait. For example, Honda is offering a rate-lock offer that can enable you to take advantage of current interest rates for up to 90 days if the car you want hasn't arrived yet. If you can't afford to wait, these types of programs may enable you to get a better deal than you think.