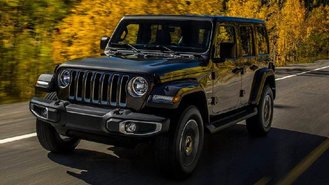 Although the Wrangler has traditionally been known for commanding premium prices, shoppers in California will find unusually good discounts in the month of December. Last week, Jeep introduced a massive $2,500 cash incentive on 2 and 4-door versions of the 2019 Wrangler. Although we've seen Wrangler discounts before, this marks the single largest manufacturer rebate we've ever seen on any Wrangler.
To put that in perspective, Wranglers had no rebates to speak of a month ago. Although Jeep introduced Employee Pricing on a range of models for Black Friday, Wranglers were one of the few exclusions. As a result, shoppers may find current offers to be a nice consolation prize for a model that typically sees no rebates whatsoever. Those looking to lease will see surprisingly good deals, too.
The 4-door Wrangler Unlimited Sport is listed at $289 for 36 months with $3,199 at signing, an effective cost of $378/month. That gives the vehicle an over $112/month advantage over the 2019 Toyota 4Runner TRD Off-Road in the San Francisco Bay Area ($490). As a result, we consider this month's deal to be one of the best leases on an SUV. That said, there are some important catches worth knowing about.
First, our analysis finds that the incentive in question is limited to shoppers in California. Jeep has also opted to exclude the rugged Rubicon style in a bit of a slap-in-the-face for diehard off-roaders. Having said all that, we're seeing some outstanding opportunities to save based on dealer discounts. For example, a dealer in Huntington Beach is advertising over $10,000 off MSRP in an effort to clear the way for arriving 2020 Wranglers.
Curiously, the lot in question still has a large number of 2018 JL Wranglers in stock, which means that the dealer is effectively trying to sell 3 different model years at the same time. Looking more closely, all 36 of the 2018 Wranglers the dealer has listed online reflect $9,000 to over $11,000 off MSRP, suggesting that December may truly be a buyer's market for those looking to score a deal on a new Wrangler.