If you've been looking for an SUV that's anything but boring, July is proving to be an outstanding time to buy a 2019 Ford Edge ST. According to dealer incentive bulletins released Tuesday, the 335-hp turbocharged crossover is eligible for over $5,000 in rebates. When combined with dealer discounts, we're seeing instances in which you may be able to save over $9,000 off MSRP.
For example, one dealer in Fort Worth, Texas is advertising $9,072 off an ST with a sticker price of $45,045. That's a 20% discount based on $5,050 in factory cash incentives plus a dealer discount of $4,022. Next, a dealer in Sarasota, Florida is showing an $8,381 discount on an ST with factory options like navigation, enhanced driver assistance tech, a panoramic roof, and more (MSRP $51,730).
That said, some deals may be too good to be true. For example, a listing on shopping website Autotrader shows a dealer in Michigan advertising $14,410 off MSRP. However, a closer look reveals the dealer is including a $2,000 loyalty discount for returning lessees, $2,000 for Fusion owners, and a $1,250 incentive you can only get when upgrading from an Escape to an Edge... all at the same time.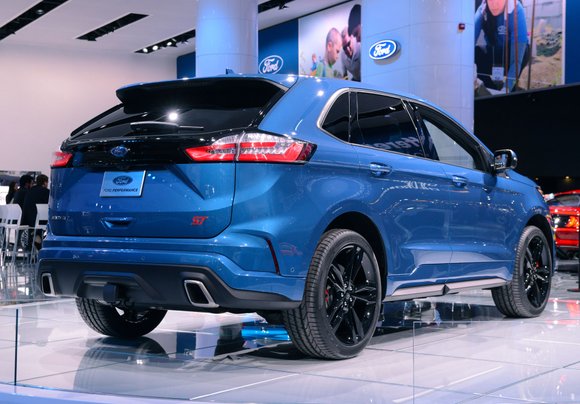 While dealer discounts will vary based on local demand, the latest deals are being heavily supported by incentives from Ford. Here in Los Angeles, buyers get up to $5,050 in savings with zero negotiation involved. That's based on $1,500 in customer cash, $2,500 in bonus cash, plus a $1,050 Summer Sales Event Bonus. Your alternative is 0% financing for 60 months plus $3,550 in cash incentives.
If you can find an ST that's been in stock for over 61 days, Ford is also offering a Select Inventory Bonus worth $500, bringing your total savings to $5,500. Prices for the ST currently start at $43,450 including destination, $100 more than what it cost when it was introduced. With some negotiation, buyers shouldn't be surprised to see prices reach the low $35,000 range at dealers.
The latest promos from Ford involve savings of up to 20% off most models, a deal we tend to see from brands like Chevy and RAM. However, our recent analysis finds that some of the deals have important limitations that can seriously impact your bottom line. For now, it's looking like an excellent time to snatch up an Edge ST and take home an SUV with a unique character you'll be hard-pressed to find elsewhere for the price.