You won't need perfect credit to lease a Kia EV9, and that could be good news for the roughly one-third of Americans with subprime credit. Based on a bulletin sent to Kia dealers today, consumers with a FICO score as low as 620 may be able to lease a 2024 EV9 and take advantage of a massive lease discount to boot.
Kia's first 2024 EV9 lease deal starts at $599/mo but assumes a FICO score of 720 or higher. Kia Motor Finance calls this Tier 1 to Tier 2 credit, and this represents the very top of the captive lender's range. Interestingly, our analysis found that Kia is already willing to lease the EV9 to consumers with subprime credit, too.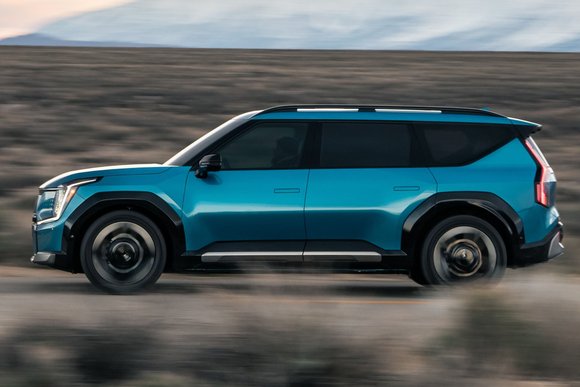 At the bottom of the range, Kia Tier 7 credit means a FICO score ranging from 620 to 639. The downside is that the underlying lease rates are extremely high with a money factor of 0.00564. That's equivalent to an interest rate of 13.54%. What's more, Kia is actually letting dealers mark this rate up by approximately 1%.
While electric car lease deals can offer ultra-low payments, they often require top-tier credit. Fortunately, the 2024 Kia EV9 will debut with $7,500 in manufacturer lease cash to help drive down pricing. Though the vehicle has higher residual values than the Kia EV6, the SUV could be a tough sell for subprime buyers.
Kia does offer standard rates for both buying & leasing for those who may not qualify for its lowest rates. Unfortunately, we don't have any data yet on EV9 standard rates, though that could be coming shortly. The EV9 is due to go on sale in the fourth quarter of 2023 with a starting price of $54,900 excluding destination.