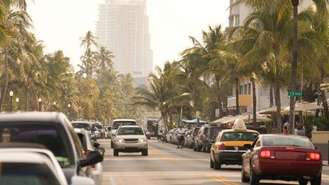 There are several Florida drivers license test requirements that have to be met in order to obtain a license in that state:
Hearing ability. If you are deaf or cannot hear words spoken in a normal tone of voice, you will be required to drive with an outside rear view mirror on the left side of the vehicle, or wear a hearing aid.
Good eyesight. Your vision must have an acuity reading no worse than 20/40; color blindness is acceptable for licensing.
Passage of written test. You must pass a road signs and road rules multiple choice test. There are helpful practice tests available.
Proof of identity. Both U.S. citizens and non-U.S. citizens must provide valid proof of identity, including passports, birth certificates, green cards or visas.
Proof of residential address. This can come in the form of utility bills or a school ID.
Proof of completion. This includes a certificate from a Traffic Law and Substance Abuse Education Course, or a license from another state, country or jurisdiction.
Parental consent form. If you are under age 18 this must be notarized or signed in the presence of a driver license examiner.
A working, registered vehicle. You must provide a vehicle for taking the driving test. It must have a valid tag, proof of insurance and pass a vehicle inspection.
Passage of road test. The examiner will test you by observing your abilities to control the vehicle and also how well you obey the traffic laws.
Minimum age. To acquire a learner's permit in Florida, one must be at least 15 years of age.
In order to upgrade your permit to a regular operator's license, there are another set of requirements to follow:
You must have had your permit for one year or more.
You must not have any traffic citations or moving violations.
You have at least 50 hours of driving experience, verified by a parent or guardian.
You have at least 10 hours of night driving experience.
How to Take a Florida Drivers License Test
Before a Florida resident gets a drivers license, they are required to take a driving test. The behind the wheel test gauges your ability to perform specific maneuvers. It is vital to bring a vehicle in good running condition when taking this test.
Some of the maneuvers you will be asked to perform when taking the Florida drivers license test are:
Shifting gears. If a driver is using a manual car, they should manually shift the gear in an effortless manner.
Turn about. Also known as the three point turn, a driver must be able to turn the car in 30 to 40 foot space.
Stopping quickly. Running at 20 MPH, the driver must be able to stop the vehicle whenever the instructor asks.
Parking. The driver must be able to park the vehicle straight in a parking space, and must be centered on the specific spot.
Responding to stop signs. The driver will be required to come to a complete stop then utilize their turn signal to signify any turn. The driver must be able to proceed to the intersection once it is safe.
Florida Drivers License Renewal: A How to Guide
The following options are now available to Florida drivers:
license renewal by mail
license renewal by phone
license renewal online
license renewal in person
Time to Renew
In general a Florida drivers license has four years of validity. The normal expiration date for a drivers license is on your birthday. You can qualify or are eligible for a safe drivers license if you satisfy the following:
no convictions within three years
no license suspensions or revocations within seven years
A safe drivers license has six years of validity, and driver's can renew their license up to one and a half years before the license's expiration.
How to Renew in Person
For drivers renewing their license at the local Department of Highway Safety and Motor Vehicles (DHSMV) office, the first thing to do is to set an appointment. You can arrange for appointments online at the DHSMV website. The DHSMV office is open from 8 a.m. to 5 p.m., Monday through Friday. The following are required when renewing their drivers license in person:
the expired license
proof of legal presence or citizenship
their Social Security number
a $15 fee
a vision test for drivers aged 80 and above
How to Renew Online
For US citizens, it is possible to renew drivers license online. Non-US citizens also have the chance to renew their license online if they have renewed their license at least once from March 2002. Credit cards can be used to pay for the renewal fee.
How to Renew by Phone
Renewing by phone can be done by calling 1-866-GoRenew (467-3639). There are several payment options such as American Express Card, Visa or MasterCard. Apart from the $15 renewal fee, there's also a processing fee of $2.90.
How to Renew by Mail
Drivers who can renew their license through mail will receive a renewal application 45 days before the expiration of the license. In case of address change, you should inform the office beforehand. The renewal application letter provides instructions on how to renew by mail and you can simply follow the procedures. As mentioned, a $15 renewal fee should be sent along with the letter.
How to Renew a Commercial Drivers License
The local office will send a notice of renewal prior to the expiration of the CDL. The letter states the date of expiration and what should be done in order to renew the license. For a stolen CDL, an application of replacement should be accomplished instead of a renewal. CDL's must be renewed in person. Drivers cannot renew their license by mail or any other means. Requirements include:
a current CDL
documents to support US citizenship
a vision test for drivers aged 80 and above
a $50 renewal fee, plus $5 for every additional endorsement