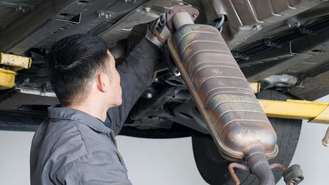 Most U.S. states require a smog check once a year. Some states, like Nebraska, do not require a smog check at all. Some, like Illinois and Washington DC, require it once in two years. The need for these tests is borne out of the understanding that vehicular emissions pollute the environment and create a number of cardiac and respiratory ailments amongst the masses.
Exceptions to Smog Inspection Law
While for most vehicles the practice is deemed mandatory by law there are some exceptions to this rule. The criteria for these exceptions are formulated on the basis of the kind of car and the year in which it was manufactured. Also, there are some cases in which while the ownership is changing hands the car does not need to undergo a car smog test. This usually happens when the DMV rules of the state declare that it is allowable for a car that is under four model years old to be sold or registered in a new state without needing a smog test. In California, vehicles that were made before 1975 are exempted from smog tests along with diesel automobiles and electric automobiles. Motorcycles, hybrid cars, trailers and vehicles running on natural gas and weighing more than 14,000 pounds are also exempt from these checks.
How to Tell Your Car Needs a Smog Inspection
Most vehicle owners have an annual schedule according to which they are to submit their cars for a smog test. In some states, using a random selection method, they draw vehicle owners' names and request them to submit their car at a test center. Car owners receive renewal notices informing them of whether they need to go for a smog check and also where one has to go.
There are numerous authorized smog inspection centers all over the American states which provide car owners with valid smog-check certificates. A smog certificate is usually valid for 90 days from the issuing date.
How to Check the Smog Test History of a Vehicle
Smog tests are usually included in a vehicle's history report. This report provides a very useful resource for learning about a car's complete history. Before buying a car, it's highly recommended that you check its smog test history. A car smog test history not only tells you about the condition of the car and whether it meets specifications and laws, but also whether the odometer has been tampered with. For example, if a car's smog test history shows it was checked in January 2001 at 45,000 miles, but a subsequent test done recorded the odometer at 35,000 miles that would show there was definitely some foul play going on.
It's very easy to run a check on a vehicle's smog test history. you need to know the car's Vehicle Identification Number (VIN) or license number. The VIN is a serial number used to identify motor vehicles by the automotive industry. Each individual motor vehicle has a unique serial number.
You can find the VIN on a plate on the dashboard of the car by looking through the windshield. You can also find it on a sticker on the driver's side door or trunk. Less visibly, it's on the vehicle's engine block.
Check Online for a Smog Test History
There are many websites available where you can look up a car's smog test history by inputting the VIN or license plate number. The VIN usually yields more accurate results, because the license plates of a car may change. Records usually date back as far as 12 years.
Some websites, such as that of the California Bureau of Automotive Repair (BAR), list the car's manufacture year and its pass or fail smog test history.
Related Questions and Answers
Which States Require a Vehicle Smog Check for Car Registration?
Most states require a vehicle smog check before you can register your car. This is a requirement of the Clean Air Act of 1997 (the most recent enactment), although it does give some jurisdictions the ability to opt out of the program if their air standards meet federal requirements. Currently, only large cities In Tennessee require a smog check before registration, while Florida, Mississippi, Nebraska, Iowa and Kentucky have been exempted from the requirements of this program. The program also allows states to choose their own method of conducting tests. For example, Massachusetts allows private contractors to conduct smog tests. New York, on the other hand, uses state-run testing stations.
What Are the California Smog Check Requirements?
California smog check is required for all vehicles manufactured before 1998. Except diesels or trucks with gross vehicle weights of more than 14,000 pounds, electrics or natural gas-powered vehicles that weigh more than 14,000 pounds, as well as hybrids, motorcycles and vehicles made before 1975. Of course, since they don't have engines, trailers are also exempt from the smog program. In those areas where the biennial smog check program applies, owners must submit evidence of smog compliance with every other renewal. If your car is six years old or newer, you are only required to pay an annual smog abatement fee. Your car won't be registered until the fee is paid.
Do I Need a Smog Check If My Check Engine Light Is On?
A smog check for a check engine light is not necessary. Smog checks are often required whenever you renew your license plate tabs. Smog check requirements vary by state, so check with your local DMV in regards to your state requirements. Some states do not even require smog checks. The ones that do have differing guidelines. If your vehicle is less than five years old, it will often be exempt from a smog check. In many states a car that has a check engine light on will be an automatic fail on a smog check, so it is best to have it fixed prior to taking the car in for a check.
What Is a Smog Abatement?
Smog abatement is simply a term used to describe laws and regulations that help reduce or halt the production of smog. These laws can be aimed at manufacturers, forcing them to reduce emissions from the vehicles they produce. Catalytic converters are one example of smog abatement. Emission checks on vehicles are another example of a law that helps reduce smog and emissions from cars. The Clean Air Act of 1970 is one of the original smog abatement laws, and the Environmental Protection Agency is tasked with implementing and monitoring smog abatement. Smog abatement laws also apply to factories that pump smog into the air via smokestacks.
What Is a Smog Check?
Smog checks are basically a test that is done on the exhaust system of a car or other type of motor vehicle. These tests determine how many pollutants the vehicle is putting out. It also checks that all parts of the exhaust system are in working order. Smog check requirements vary by state, and not every state requires smog checks. Check with your local DMV in regards to the smog check guidelines in your particular area. Smog checks are an essential part of smog abatement laws, and help prevent emissions from getting into the air.