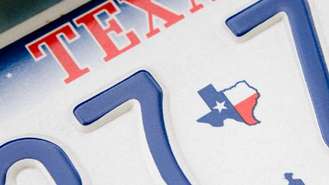 If you're a new resident or if you've purchased a new or used car, you need to register your vehicle in order to receive Texas license plates. If you already have a set of plates, the Texas license plates renewal process involves a change in registration information and the plate tags, but you can keep your existing tags on your car. As with other states, you can also purchase Texas specialty license plates with your own expression in place of the standard license number; this incurs additional charges. It is important to familiarize yourself with the restrictions and process associated with registering your vehicle in Texas. If you fail to register within 30 days of moving to the state of Texas or from the day that you purchase your car, or if you do not properly renew your registration every year, you face citations and fines. The following guidelines will help you to register for Texas license plates.
Gather the Appropriate Materials and Forms
Before you can apply for a license plate in Texas, you need the following documentation:
A smog and emissions inspection report
Proof of insurance from your auto insurance provider
A bill of sale (if the car is less than 10 years old)
A car title
The title/registration form (Form 130-U)
The last item on this list is available either at the local DMV office in paper copy or on the Texas DMV website, where you can download the form and print it out for your use. If you haven't yet had the vehicle inspected for smog and emissions, consult with the DMV for authorized inspection agencies near you. You have to have registered for car insurance before you can properly register the car in the state of Texas.
Complete the Necessary Forms and Prepare Payment
After acquiring Form 130-U from the DMV, fill out the form as the instructions specify. Take note at this point of any other documentation or pieces of information that you need to gather before you can complete the registration for your vehicle.
You'll have to pay a certain fee in order to register your car in Texas. This fee depends upon whether you're creating a new registration or renewing a prior one, whether you're purchasing vanity license plates and on a number of other factors. Consult with your local DMV branch to determine how much money it will cost to register your car.
Submit the Forms and Payment
Submit the forms and proper payment to your local county tax office. You can deliver them in person or mail them. After you've done that, you'll receive a temporary vehicle registration form that you can place in the rear window of your car until the metal license plates have completed printing and you've received them in the mail.
How to Get Personalized Texas License Plates
More than 100,000 Texans have personalized Texas license plates. The Lone Star State lets you personalize your plate configuration with up to six characters and also has an option to include a silhouette of Texas on your plate. Here's a guide to getting a personalized license plate.
Go to the Texas Department of Transportation website to begin your Texas license plate search.
Click the "Services" link, then the "Vehicle Titles and Registration" link, and after that, the "Personalized" under "License Plates" link. Scroll down to find the downloadable Form #VTR-35-A. This form is the official application for personalized license plates.
Read all the instructions, rules, regulations, policies, and class designations on the first two pages before beginning to fill out the application. For example, you should know that personalized license plates cost more than standard plates. Personalized plates for cars or trucks currently cost about $85. Prices are subject to change. Additionally, you can obtain a faxed copy of the application by calling toll free at (888) 232-7033 and entering fax form number (0035).
Go to My Plates and choose or create a plate type. My Plates is a marketing vendor for the Texas Department of Motor Vehicles that offers Texas specialty license plates. Plate types include government, collegiate, military and veteran, antique, organizational, professional sports team, and public servant license plates. All plates are street legal and officially licensed by the Texas Department of Motor Vehicles. Souvenir plates are also available to purchase but are they are not street legal.
List three character configurations for your personalize license plate in order of preference. A combination of letters and numbers is acceptable. You can check the availability of your configurations on My Plates as well. Remember the rules for your personalized options. For example, period, spaces and dashes are allowed. Use an asterisk to indicate where you want to display the Texas silhouette.
Look up the fees you will be paying. A personal check, money order, or cashier's check payable to the Texas Department of Transportation are all acceptable payment methods.
Mail your payment and application form to the Texas Department of Transportation. The address is Vehicle Titles and Registrations Division, Austin, TX 78779-0001.
Allow two to three weeks to past before you call your local county tax office and confirm that your plates are ready for pick up.
Apply the decals on your new personalized plate after you pick it up at your local county tax office. Make sure you receive a receipt for your records.
How to Conduct a Texas License Plate Search
The Texas license plate database is a system of records kept by the DMV in order to maintain information about all of the different license plates in the state. The DMV will gladly perform a Texas license plate lookup if you are in doubt about the availability of your chosen vanity plate.
If you wish to conduct a license plate search for purposes of criminal investigation or for additional information about the owner of a particular vehicle, you need to communicate with an investigation service.
Private Investigators
Many private investigators specialize in conducting license plate checks. In this type of process, you pay a personal investigator a fee to conduct a background check based on a particular license plate. This search typically generates information regarding the owner of the car, the date and type of registration, and purchasing information for the vehicle as well. Most private investigators require a legitimate reason or concern on your part before conducting this check, and this type of service is usually reserved for victims of accidents and other crimes.
You can also hire online organizations to conduct a similar type of search based on a license plate in the state of Texas. The rate for this service varies greatly depending upon the site, so it is best to compare prices before committing to any one type of service.