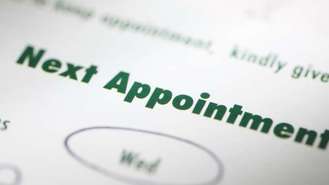 DMV appointment system allows your access many of DMV's services without having to sit in a lobby for hours and wait for a turn at the counter. Several DMV locations have appointment-making services available over the phone or online.
Appointments You Can Make at the DMV
The DMV has three different categories in which an appointment can be made: driving tests for a class C drivers license or motorcycle endorsement, licensing services, and vehicle registration services. Each state has different appointment services offered at their DMV locations.
Appointments cannot be made through most DMV offices for commercial licenses. However, some DMV locations allow you to obtain a certificate stating they're able to drive a bus, ambulance or other occupational licenses. You can also make an appointment to obtain a driver's permit, reinstate a suspended license or obtain an ID card at most DMV locations.
Several DMV locations also allow you to schedule an appointment to register a newly purchased vehicle, obtain a vehicle's title or registration, obtain new license plates, or attain special plates or permits for disabled parking. Other services you can make an appointment for include receiving print-outs of specific paperwork, notifying the DMV about a vehicle sale or obtaining a proof of insurance.
Information Collected by DMV Appointment Systems
Scheduling an appointment with the DMV is much like scheduling an appointment with a doctor. Whether you're using the Internet or are calling on the phone, the DMV will obtain some basic information about you so they can be prepared, including the purpose for your visit. Most DMV locations will allow you to schedule an appointment up to 30 days in advance.
The DMV will need your name along with information about the location you wish to visit. Personal information such as your phone number, address, birthday, ID or license number, and the names of any other customers going to the appointment may also be collected.
If you're making an appointment using the Internet, the DMV will collect information about the date and time you spent on their website. A client IP, HTTP status or URL request will also be recorded so the DMV knows which computer accessed their site along with information about the pages viewed within their site. The type of data sent and received will also be recorded. The information collected by the DMV when you use their website is the standard information most websites record about their visitors so they know, for example, how their site can be improved and which pages are viewed most often. However, by law, the DMV has limitations on how personal information can be used no matter how it was obtained.
How to Shorten or Eliminate a Visit to the DMV
More states are providing alternate means to take care of your business with their DMV. That not only saves you a trip, but it means shorter lines when you do have to go in. This means less time in line for everyone. It also helps to save them money in payroll and office expenses. Since DMVs are funded by the states, it is ultimately saving the taxpayer money.
Your State's Online DMV Presence
Check the Internet for your state's DMV online presence. They all have some services available via the Internet. Many times things like renewing your registration can be done by online.
Options for Renewing Your Drivers License
Some states allow you to renew your drivers license online or via mail. There are often restrictions, like you must have a clean driving record and there must be no changes in your address or other information. It can definitely be a real time saver. Of course, you won't get a new picture on your license that way, so if that's important to you, you need to go in to the office.
Are Appointments Available?
If you do have a situation where you have to go in, check to see if your state provides DMV appointments online. Even if they don't let you set up your appointments via the Internet, they might still do appointments set up via telephone. DMV's that provide appointments tend to have shorter visits. It helps them to manage the crowds better and anticipate busy times.
How to Make a DMV Driving Test Appointment
Now that you have successfully passed your written test, you're ready to schedule your DMV driving test appointment. You have more than one avenue at your disposal in setting up your DMV appointment. By making an appointment you eliminate the long wait that the DMV is notorious for.
Scheduling a DMV appointment can be done three ways:
Call the phone number printed on your test booklet for the closest DMV test site
Personally walk into a site and set up an appointment
Go online, and make an appointment at any DMV test site
You may not be able to make a same-day appointment. This appointment can usually be set for up to 45 days in advance, although this time period may vary from state to state.
Bring Required Documents
You are required to bring with you certain documentation before you will be allowed to take the driving test. This is to ensure that you are who you claim to be, and that you are legally entitled to have a drivers license in that state. These documents include:
Your state identification card or birth certificate
Your car registration
Your driving permit
Proof of insurance for the test vehicle
Do Not Drive Yourself
You must have a licensed adult driver bring you to the testing site. An unlicensed driver who drives themselves to the site is frowned upon by the DMV and law enforcement.
Wear Your Glasses or Contacts
If you are required to wear glasses or contacts while driving a vehicle, you must wear them when you take the driving test.