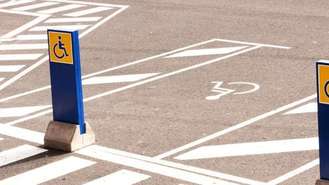 A handicap parking placard can be very helpful whether a driver is suffering from a temporary or permanent disability. Depending on local laws, there are a variety of requirements that must be met to qualify for a handicap placard. A disabled parking permit allows a driver to park any vehicle in an authorized handicap area, so long as the handicap parking permit is not expired and is properly displayed in the windshield.
Determine If the Disability Is Admissible
In order to qualify for a disability placard, you must have a temporary or permanent disability. Temporary disability placards are for short-term disabilities, like those that follow a surgery. Depending on your state, a temporary placard may be valid for up to six months. A permanent disability placard is issued for individuals with conditions that are not expected to improve. A placard may also be issued to an individual without a disability, so long as the individual is charged with transporting a disabled family member.
Common disabilities that result in getting a disability placard include an inability to walk a significant distance, use of ambulatory aids, cardiovascular conditions or reliance upon an oxygen device.
Complete the Application
In some cases, you can submit the application electronically, while other states require the application to be printed and submitted via traditional mail. You may also visit a branch office of your DMV to get the application and to file it.
While the information required on the application will vary by state, you need at minimum your drivers license number, address, current placard number (if you have one) and your current license plate number. In some states your physician must complete a form, and this evaluation is the sole determination for approval of a disability placard. Your physician must note if the disability is temporary or permanent and explain the nature of the injury.
Submit the Application
After completing the application and having a physician complete the necessary information, you may be able to return your application online, via U.S. mail or in person at a branch office, depending on the technology available in your state. You may also be required to pay an application fee for a placard. Check the application to see if a fee is required.
After the application is submitted, it may take several weeks to receive your disabled parking permit. If the application is denied for any reason, you will be notified by mail, and there may be an appeal process available in your state. Remember to renew your handicap placard as needed and to report it missing if it is lost or stolen.
How to Get a Handicap License Plate
Having a handicap license plate is easier than using a disabled parking placard because you need not hang your placard each time you park. Depending on your state, getting a handicap license plate can be a very long process. In general you may follow these basic steps to get your handicap license plate:
Visit your state's DMV website.The website of your state's DMV shows any special requirements that must be satisfied before disabled plates are issued. For example, in some states a disability must be permanent to qualify for the plate
Print necessary forms.On the website, print the application for disabled plates. Depending on your state, you may also be able to complete the application and pay the fee online, or you may be required to visit a branch office to file your paperwork
Provide proof of disability.If you are the disabled driver, you must explain the nature of your disability. If you are the family member of a disabled individual and you serve as their primary mode of transportation, you may be required to explain your obligations. You may be required to include a doctor's statement
Pay license fees. Some states will offer you a discount on your disability plate in exchange for canceling your current license plate. After all paperwork and license fees are paid, you will be issued a handicap license plate
It may take several weeks to receive your disabled plates, depending on the state's policy. As license plate policies vary from state to state, please contact your local department of motor vehicles if you have any specific questions.