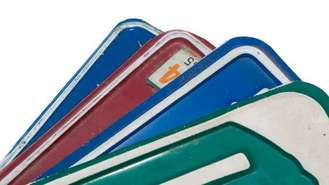 If you own a car for any significant amount of time, you will eventually have to get a replacement license plate or two. Under normal circumstances, you shouldn't have to replace a license plate, but if a license plate gets lost, stolen or damaged, or if it becomes illegible, it should be replaced immediately. While the specific steps you need to take to get a replacement license plate or to renew a license plate sticker will differ according to the state you live in, the basic process will remain the same. In this article, we list the basic steps you will need to follow to get a replacement license plate or license plate sticker renewal.
Step 1: Establish Your Identity and Residence
If you're applying for a replacement license in person at your local Department of Motor Vehicles, or DMV, (or mVD) you'll have to provide a valid driver's license or identification card. If your current address is different from that in the DMV's records, you may also have to provide a copy of your title or registration card as proof of ownership of the vehicle. If you want to apply for the replacements by mail, you must be the registered owner of the vehicle and your current address must be identical to the address that's recorded in the DMV's files.
Step 2: Complete an Application for Replacement Plates
The specific form you will have to fill out to apply for replacement plates will differ depending on the state and the type of license or sticker to be replaced. Generally, though, you will have to fill out either an application for replacement plates, sticker or documents, a special interest plate application, a special plate application, or an application for special equipment identification.
Step 3: Provide the Remaining License Plate(s)
If at least one of the plates is still with you, you can apply for duplicate license plates. However, if both license plates were lost or stolen, duplicate license plates with the same configuration can't be issued. You'll have to apply for regular series replacement license plates.
Step 4: Pay the Duplicate or Substitute Fee
You will have to pay a fee to have duplicate or replacement license plates issued. Again, the fee will differ depending on the state, the type of license plate that is being replaced and the type of application you are applying for.
Getting a replacement sticker for your license plate is generally less complicated. Like a license plate, a license plate sticker should be replaced immediately if it has been lost, stolen or damaged or has become unreadable. Again, the specific procedure and requirements for license plate stickers will differ according to state. But generally, all that is required is for you to fill out an application form for a replacement sticker and pay a substitute fee. Using fake license plate stickers, or removing stickers from one car's license plate and placing them on another, is considered an offense in most, if not all, states. If you can't apply for replacements immediately, a much safer way to replace lost or damaged stickers is to obtain a free replacement month sticker from your local DMV.