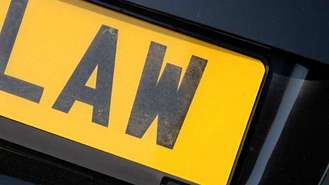 Many people use their license plates as a form of self expression. Since license plates in the United States are issued by states, the specific laws regarding them vary state by state. However, some laws hold throughout many states.
Specialized vs. Personalized License Plates
First, there is a difference between specialized license plates and personalized license plates. For the most part, on specialized license plates the numbers are still set by the issuing state, but they allow people to pay an extra fee to get a different background on the plate. States have issued them for all kinds of groups--for instance plates might designate a veteran or show a particular hobby or organization on them.
Personalized plates, on the other hand, are plates where the driver requests a specific combination of numbers and or letters. What is and isn't allowed varies by state. Some states have more than one category of custom license plates depending on what combination of letters and numbers is used. Some states don't charge extra for this and some do.
Choosing Your Plates
If you want to get specialized plates, check with your state and find out what kinds of plates they offer. If you are thinking about personalized license plates, see what specific restraints are there. Then you can work out your license plate ideas with those specific requirements in mind. Otherwise you might come up with a great idea only to find that you just can't get it. Most states have a list of banned plates. These are generally combinations that they feel can be construed to be vulgar or otherwise offensive.
Creating Your Personalization
Think about your choices carefully and don't apply for them impulsively. Something that seems to have one meaning to you might mean something unintended to someone else. Show them to friends and see what they think the plates represent before you apply for them. Once you've got the actual plates in hand it can be difficult and expensive to change them.
Some states offer an online license plate search. This lets you try out the combination you want and see if it is available or not. Other states let you give them a few possible options. Usually you list them in order of preference and they go down your list and assign you the first one that's available.
How to Order Personalized License Plates Online
In order to purchase customized DMV plates online, you'll need to be aware of your state's rules and regulations regarding those plates, as well as the procedure for procuring renewal license plates in your area.
Research the Requirements
Personalized license plates take additional time to process. In some cases, expect to wait up to three months for your customized license plates to arrive via the mail. In some states it may take longer. In the meantime, you'll be issued a temporary plate to affix to the rear window of your car.
To purchase customized license plates, begin by visiting your state's DMV website. Most of these sites have additional information about custom or vanity plates, including regulations as to character type and limit, prohibited words and expressions and more. Many of these sites also have links to third-party websites where you can order custom plates online.
Prepare Your Application Materials
Before you may order customized license plates, ensure your vehicle is properly registered with the government and your registration is not due to expire in the coming months. If your car fails to meet these requirements, begin the application process by renewing your registration.
Locate the order form for customized vanity plates on the DMV or third-party website from your state. If you have trouble locating this form or website, call your local DMV branch office for additional information. To complete the order form, you'll need to have the car registration information, your license and a method of payment. Most customized plates cost several times what a standard license plate charge entails, so be prepared to pay via credit card or another appropriate method.
Complete and Submit the Order Form
Check the instructions listed on the order form for details of how to submit. Many states provide the custom license plate order form online but require you mail the form into a DMV office, or deliver it in person. In these cases, print out the order form and complete it, then bring the application and all other necessary documentation to the nearest DMV office in order to finalize the process.
Other states permit you to email or fax the order form in to the DMV office or third-party company. Ensure you provide all of the necessary documentation to prevent any delay.
Begin the ordering process at least three months before your old plates expire, as this allows adequate time for the plates to arrive and does not put you in the position of having to drive without proper license plates on your vehicle.