The Ford EcoSport arrived as an all-new model in 2018, giving the automaker a much-needed competitor in the subcompact SUV class. Entering its fifth model year on sale, the 2022 Ford EcoSport is expected to be a carryover model.
When Ford unveiled the EcoSport in 2018, the tiny SUV arrived with a small footprint and muscular elements. The oval grille, stubby front nose, and rugged body cladding giving the EcoSport is SUV-forward design. At the back, the current EcoSport's upright rear end and swing-out tailgate are unique elements for the segment. As a carryover model, the 2022 Ford EcoSport is expected to retain the same overall exterior design as the current SUV.
The interior design of the EcoSport will remain the same as the current model for the 2022 model year. On the inside, the current EcoSport features a dashboard that juts out to make it easier to access the infotainment screen and HVAC controls. Simple gauges, clearly-labeled buttons, and clear sightlines out of the vehicle highlight the current EcoSport's ease of use.
Standard tech features on the current EcoSport include a 4.2-inch display, Wi-Fi hot spot, two USB ports, and six audio speakers. Optional features include Android Auto, Apple CarPlay, an 8-inch touchscreen, navigation, and a 10-speaker Bang & Olufsen audio system. Being a carryover model, these features should remain unchanged for the 2022 Ford EcoSport.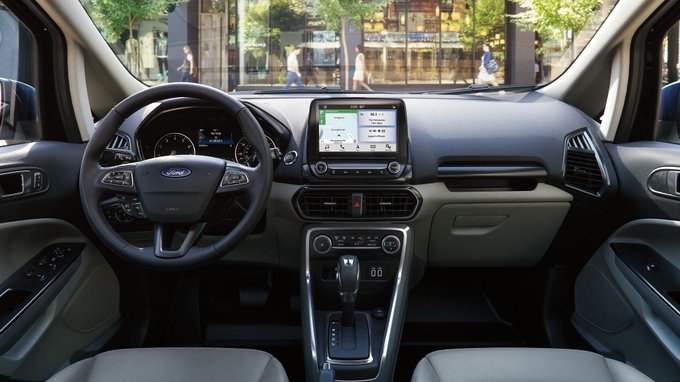 Power for the 2022 Ford EcoSport is expected to come from the two same engines found in the current model. Ford offers the subcompact SUV with a 2.0-liter three-cylinder as standard that makes 123 horsepower. The standard engine comes with front-wheel drive. A 2.0-liter four-cylinder engine that produces 166 hp and routes power through an all-wheel-drive system is available. Both motors are paired with a 6-speed automatic.
The current EcoSport comes with a rearview camera as standard. Only a few advanced safety features are optional, including rear cross traffic alert and blind spot monitoring. In the NHTSA's testing, the current EcoSport earned a four-star overall safety rating. These safety features and ratings will remain the same for the 2022 Ford EcoSport.