The 2023 Ford F-250 has been fully redesigned for the upcoming model year. The changes include a fresh design, updated tech features, and upgraded powertrains. Here's what we know so far about the redesigned 2023 F-250 pickup truck.
The F-250 rolls into 2023 with a new look. Let's be honest here, the refreshed look isn't completely radical, things have just been slightly tweaked for a nicer design. The pickup truck is now available with seven different grille designs, which vary depending on trim level. The truck has new C-shaped lighting elements, larger functional side vents, reworked taillights, and a new tailgate with a few new fancy features. Ford has fitted the heavy-duty pickup truck with new side steps on either side of the rear bumper, along with side steps right in front of the rear wheels to access items in the bed easier.
Ford has given the 2023 F-250's interior a little more love than the exterior. The dashboard has been redesigned to have simple lines that run nearly the full width of the truck instead of having a large center console that juts out like last year's model. The center console still features a similar button layout, but now houses a larger infotainment screen and an available digital instrument cluster. Ford now offers the 2023 F-250 with its Max Recline Seats as an option that include front seats that fold nearly flat.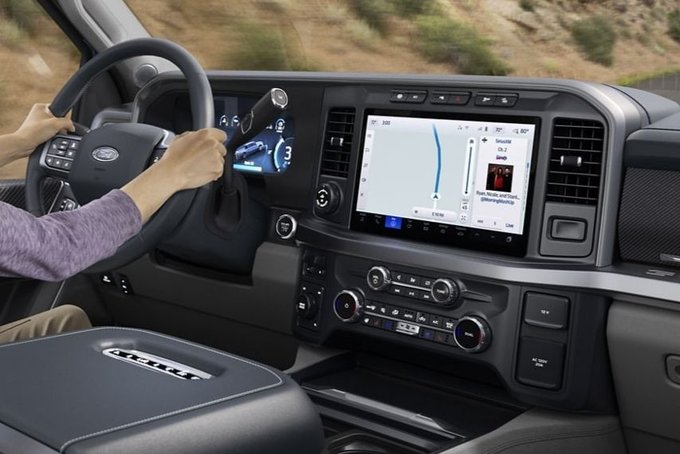 On the tech front, the 2023 Ford F-250 arrives with far more modern features than before. Lower trim levels come with an 8-inch touchscreen, while higher trims are fitted with a 12-inch display. Other available features include a 12-inch digital instrument cluster, a wireless charging pad, an 18-speaker Band & Olufsen audio system, built-in 5G capability, navigation, and a head-up display. One of the cooler new tech features on the F-250 is the introduction of Trailer Navigation. Super Duty owners can enter their trailer dimensions into the navigation system and the pickup truck will find routes that avoid potential hazards like low bridges and tight turns.
The F-250 receives updated powertrains for 2023. The standard engine is a 6.8-liter V8 engine, though Ford hasn't shared performance figures for the motor yet. Ford has upgraded the available 7.3-liter V8 engine with a new intake for best-in-class horsepower and torque. The 6.7-liter turbodiesel V8 engine is available in a new high-output configuration with a special turbocharger and other upgrades for best-in-class figures, too. All engines come with a 10-speed automatic transmission and all trims above the XLT come standard with four-wheel drive.
Updated towing figures have been announced for the 2023 Ford F-250. It can now tow up to 23,000 pounds when properly equipped with a diesel engine. Other powertrains can also do their fair share of hauling in the F-250. Optional features for enhanced towing capability include an all-new available 360-degree trailer camera package and optional onboard scales.
Ford has added some new available safety features for 2023. The heavy-duty pickup can be fitted with adaptive cruise control, lane-keeping assist, stop-and-go traffic assist, front parking sensors, and reverse automatic emergency braking. The pickup is also available with a new camera that's mounted at the top of the tailgate to help drivers see what's behind the truck even with the tailgate down.