The 2018 Ford Focus Electric takes the fight to the Volkswagen e-Golf and Nissan Leaf, but the aging model effectively has one arm tied behind its back. That said, it's one of the cheapest ways to drive an all-electric vehicle, although it's only on sale in ten states through Ford EV Certified dealerships.
What's New for 2018
The Focus Electric is unchanged for 2018.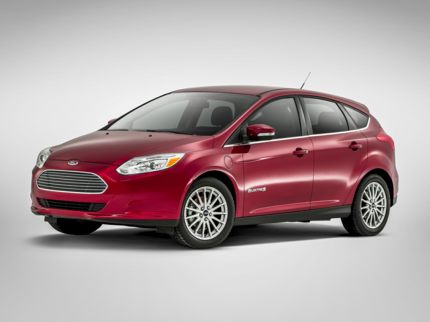 Choosing Your Ford Focus Electric
Prices for the Focus Electric start at $29,995, not including the $7,500 federal tax credit most EVs are eligible for. For that sum, customers get a zero-emissions hatchback with a 143-horsepower electric motor, distributing 184 pound-feet of torque to the front wheels through a single-speed automatic transmission. The 33.5-kilowatt-hour lithium-ion battery stores enough juice for 115 miles of range, far less than the much-newer Nissan Leaf or Chevrolet Bolt EV. A full charge on a 240-volt outlet will take about five and a half hours, although owners with access to a DC fast charger can get from zero to 80 percent in just 33 minutes.
Unlike conventional gas and diesel vehicles, EVs suffer on freeways. The Focus Electric delivers 96 MPGe highway compared to 118 in the city. As those numbers indicate, the Focus Electric is at its best in urban environments, with impressive low-speed acceleration because peak torque is available from standstill. Regenerative braking also comes into its own around town, recovering braking energy and storing it in the battery for later use.
The Focus Electric is only available in one trim level, with limited options. Leather-trimmed bucket seats are a $1,080 extra, with heated cloth fitted as standard to reduce temperature fluctuations and reduce the need for battery-draining climate control. At least the configurable LCD instrumentation is unique to this model, with pre-programmed guides to optimizing energy usage through careful driving.
The eight-inch voice-controlled touchscreen center stack is familiar from other Focus models, containing navigation and a serving as the nerve center for a nine-speaker Sony audio system. Ford's Remote Start System lets you set the interior temperature before reaching the car, which can reduce battery usage once the vehicle is unplugged and on the move. Standard safety features include a rear view camera plus rear parking sensors. The Focus Electric rides on 17-inch aluminum wheels, with built-in tire pressure monitoring.
Although Ford is expanding its EV dealer network, the Focus Electric is currently only on sale in California, Connecticut, Maine, Maryland, Massachusetts, New Jersey, New York, Oregon, Rhode Island and Vermont.
CarsDirect Tip
With only one trim level, there isn't really a tip to give, besides making sure the Focus Electric is really the car for you. Newer rivals from Chevrolet and Nissan offer much more usable range without asking for a lot more money.