Model Preview
GMC is stepping up its midsized pickup game with the introduction of the 2024 GMC Canyon AT4X AEV. This rumored truck was recently teased, showing the grille, front bumper, and undercarriage of the soon-to-come high-clearance vehicle which is being put out in partnership with American Expedition Vehicles, earning it an AEV badge. We expect the Canyon AT4X AEV to follow suit with the changes made to the newly announced GMC Sierra AT4X AEV.
We expect to see the 2024 Canyon AT4X AEV be a more rugged version of the newly introduced 2023 Canyon AT4X. It features a fully redesigned exterior with a standard factory lift and widened track and is the true embodiment of off-road capability. The 2024 model will get even more specialized equipment thanks to off-road aftermarket equipment manufacturer American Expedition Vehicles.
According to Automotive News, the Sierra AT4X AEV received an increased front approach angle, departure angle, breakover angle, and ground clearance compared with the AT4X, and also has AEV-specific badging, wheels, tires, and front fascia. We expect the 24 Canyon AT4X AEV to get the same treatment. The base model 2024 Canyon AT4 and AT4X models are expected to be carryovers of the 2023 model, which was a redesign.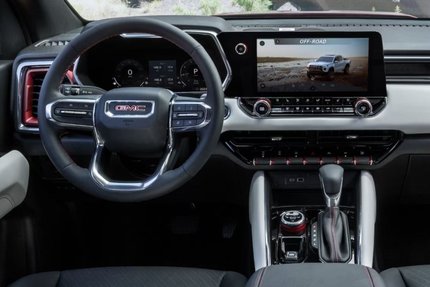 On the inside, we expect the 2024 Canyon AT4X to have the same redesigned interior as the 2023 model. The 2023 Canyon AT4X features a new interior with a trim-exclusive Obsidian Rush color scheme with Ceramic White accents, a customizable 11.3-inch diagonal touchscreen infotainment system, and an 11-inch fully digital instrument cluster. In addition, the AT4X includes a GMC-exclusive Head-Up Display and a Bose seven-speaker audio entertainment system. Being an AEV package, the new model could feature more rugged interior materials than the current truck on sale.
There's been no mention of the engine or towing capabilities for the new 2024 Canyon AT4X. For the 2023 model, there's a standard gas engine across all trims. The high-torque, off-road optimized 2.7L turbo engine provides a GM estimated 430 lb-ft of torque.
Pricing & Release Date