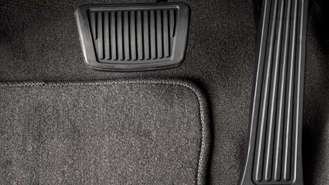 Regenerative braking braking systems are used on most electric and gas-electric hybrid vehicles. These systems capitalize on the similarities in construction of electric motors and electric power generators. An electric motor's interior is made up of copper windings. It uses an electromagnetic energy field to produce torque through its main shaft when power is applied to it. A generator or dynamo is also comprised of copper windings and makes use of an electromagnetic field; applying a force to turn its rotor allows it to produce electric power. Regenerative braking is based on the principle of physics that states that energy cannot be destroyed; it can only be transformed from one form to another.
In a traditional braking system, pressing on the brake pedal causes a pair of brake pads in each wheel to come into contact with the surface of a brake rotor. This contact produces friction, slowing down and eventually stopping the vehicle. The friction itself produces heat as an energy byproduct. Automotive engineers and designers generally perceive heat as a loss. This is the reason why, especially in high performance cars, brake cooling systems such as air dams are employed to dissipate heat from the brakes so that they can quickly regain their efficiency.
In a regenerative braking system, the objective is to recapture the energy byproduct that results when the brakes are applied. In electric or hybrid automobiles, the electric motor that drives the car's wheels plays a major part during braking. When the brake pedal is pressed, the regenerative braking circuit switches the motor so that it now operates in reverse to counter the direction of the wheels. This reversal actually makes it perform like a power generator or dynamo that produces electrical energy. The electricity developed is routed towards the car's storage batteries to recharge them. At higher speeds, regenerative brakes still require the assistance of traditional brake systems to be applied as a backup.
The efficiency of regenerative braking systems in use today has improved significantly. Some existing systems are able to capture and store as much as 70 percent of the energy that would otherwise have been lost. This recapturing and storing of electrical energy may be likened to "trickle" charging of the batteries. This is because most of the time, the electric motor runs in torque producing mode to drive the vehicle. The recommended battery charging method still has to be performed to charge the batteries fully, although regenerative braking does translate to an increase in vehicle range.