Since its 2011 debut, the Honda CR-Z has occupied an intriguing niche in the automotive marketplace. Despite a small, sporty hatchback body, it's an authentic hybrid -- but one that attracts buyers because of its fun-loving nature more than its fuel-efficiency. With its comfortably radical design and complementary agility, the Honda CR-Z set out to prove that a small hybrid doesn't have to please buyers on mileage alone. Sales have been sluggish lately, however, prompting some changes inside and out.
What's New for 2016
The CR-Z sees several updates for 2016, meant to give it a more assertive demeanor. Externally, the fascia has been reworked, with a big front diffuser installed and a more chiseled-looking appearance. Inside are a revised console and new seven-inch touchscreen. A new top trim level has been added: the EX-L, featuring heated leather-trimmed seats and a standard navigation system.
Choosing Your Honda CR-Z
Powering Honda's hatchback two-seater is 1.5-liter four-cylinder gasoline engine coupled with an electric motor, which together produce 130 horsepower. A six-speed manual transmission with hill-start assist is standard, making the CR-Z the only hybrid on today's market that you can shift yourself. The optional continuously variable transmission (CVT) comes with paddle shifters and boosts gas mileage to an estimated 37 mpg combined (versus 34 mpg with the manual). Specifically, the CVT version is rated at 36 mpg in city driving and 39 mpg on the highway, versus 31/38 mpg with manual shift.
All models offer three driving modes: Normal, Econ and Sport. A Sport Plus button can deliver a 5-second burst of additional power, in any mode.
You won't find a backseat in the two-passenger CR-Z, but you do get a handy parcel shelf with individual bins. Folding down the various dividers provides 25 cubic feet of flat load space. That might not sound like a lot of space for a hatchback, but its practically cavernous for a two-passenger car.
You can have your CR-Z in a choice of three trim levels: Base, EX, and new EX-L: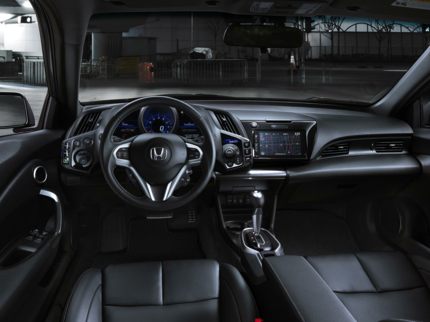 CarsDirect Tip
If you're yearning for a manual transmission along with fuel-efficient hybrid power, the CR-Z is simply the only car to be considered. With so many new hybrids popping up lately, of course, it's possible one or two of them might adopt manual shift. For the rest of us, in any case, the more efficient CVT is clearly the logical choice. With its enhanced interior trim and additional features, the EX model makes the most of the CR-Z's sporty character, without spoiling its friendly price. Even the new EX-L isn't so much higher in price.
Get your price on a Honda CR-Z »
Read our review on the Honda CR-Z