The Crosstour debuted as a standalone model in 2012, following two years as the Accord Crosstour. It's quirky looks, roomier cabin and higher ride height make it perfect for a small group of buyers looking for an SUV that drives like an Accord. While it may not be overly popular in terms of sales, Honda has obviously found the perfect equation for meeting demand and making money in the process, as the automaker continues to offer it in 2015 model year.
What's New for 2015
The Honda Crosstour carries over into the 2015 model year without any changes worth noting.
Choosing Your Honda Crosstour
Honda has become very good at keeping things simple when it comes to selecting a model that suits your needs. Essentially, you only need to choose the features you must have, the drivetrain you prefer and set a budget. There are no crazy packages to wade through or a pile of trim levels with overlapping features that you need to sort out.
Once you have all of the features you need and want planned out, you simply need to match the drivetrain you prefer to the right trim level.
In its base setup, the Crosstour comes with a 2.4-liter four-cylinder mated to a five-speed automatic transmission. This drivetrain delivers power only to the front wheels, and it is rated at 22 mpg city and 31 mpg highway.
Moving up the ladder, the optional engine is a 3.5-liter V6 that produces 278 horses and 252 pound-feet of torque. This engine joins forces with a six-speed auto transmission to deliver power to the front wheels as standard. In this setup , the Crosstour gets 20 mpg city and 30 mpg highway.
The final drivetrain option adds all-wheel drive to the V6. The transmission remains the same and the power output is unchanged, but fuel economy does drop to 19 mpg city and 28 mpg combined. Unfortunately, if you need the added grip of all-wheel drive, you'll need to move all the up to this top-of-the-line trim level.
With your list of needs and wants laid out, and your preferred drivetrain in mind, you are ready to make your way through the 2015 Crosstour's four main trim levels: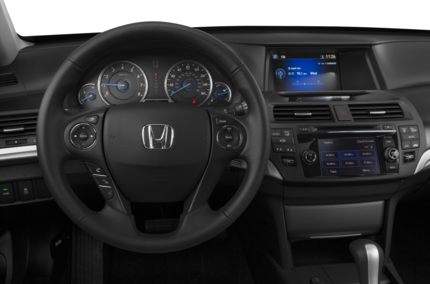 CarsDirect Tip
If you can live with the slightly lower fuel economy ratings of the V6 and the extra money it costs, it is well worth the investment. It's not only peppier than its four-cylinder counterpart, but it is also smoother and quieter.