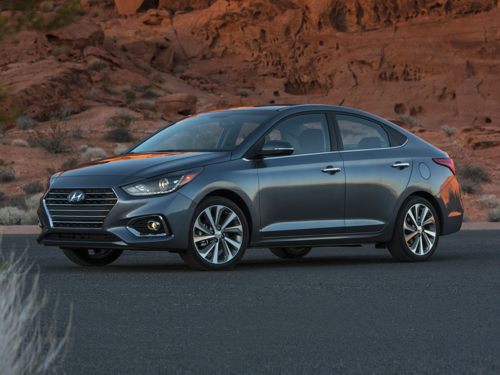 2022 Hyundai Accent Prices and Deals
2022 Hyundai Accent Arriving; 2021s Sold Out

The 2022 Accent is arriving at dealerships and it's a carryover model beyond losing its standard manual transmission. Hyundai stocks this model in small numbers, so you may need to work with your dealer to find one. As for the 2021s, they're sold out.
This page is updated monthly with the most recent incentives, so be sure to check back for the latest information. The current offers end on January 31, 2022. Examples here are for Southern California but expect to see similar deals in other parts of the country.
Hyundai Accent Lease Deals
LEASE FROM $179/MO.
Hyundai supplies a rare lease offer for the Accent. This one covers the SE trim with the automatic transmission.
Here, you'll pay $179 per month for 36 months with $2,899 due at signing. Your effective monthly cost is $260 and this is a bad offer. Hyundai's lease offers include 10,000 miles of annual driving.
Hyundai Accent Rebate Deals
Up to $750 finance bonus

If you purchase a 2022 Accent, you'll find $750 in finance bonus cash. The only requirement here is that you must get financing through Hyundai to receive the bonus.
Hyundai supplies multiple special incentives worth noting. The company's College Grad Program offers $400 toward the purchase or lease of a new vehicle. A Military Program and First Responders Program supply $500 in cash each toward the purchase or lease of a new Hyundai.
Finally, there is a Mobility Program that offers $1,000 for the purchase of adaptive equipment in your Hyundai. See your dealer about each of these special offers and for determining your eligibility.
Hyundai Accent Finance Deals
RATES FROM 1.9% APR
Hyundai is offering the 2022 Accent with financing for 1.9% APR financing for 60 months. If you prefer a 72-month loan, the rate is 2.9% APR. These financing rates aren't as good as the ones we saw before the end of last year.
Advertised Lease Deals
2022 Hyundai Accent 1.6L SE Lease Deal
Deal Valid in:
Southern California
This ranks as an excellent deal based on our expert analysis of: vehicle price, length of lease term, amount due at signing, monthly payment, etc.
CarsDirect Target Price
Prices vary by style
CarsDirect
Pricing as of 1/24/22 in 20149
Financing Incentives
Rebate
Amount
Promotional APR Offer

Promotional APR programs available for qualified buyers. Please check with your CarsDirect Trusted Dealer for complete details.

Term(s)

24

25 - 36

37 - 48

49 - 60

61 - 72

Rate %

0.9%

1.9%

1.9%

1.9%

2.9%
Leases For Similar Cars
Based on 2022 Hyundai Accent SE 4dr Sedan - MSRP $17,690
Insider Information
We have information you must know before you buy the Accent. We want to send it to you, along with other pricing insights.
I agree to receive emails from CarsDirect. I understand that I can unsubscribe at any time.
We will not spam you, and will never sell your email. Privacy Policy.
Thank you. You are now subscribed to our Pricing Insider updates.