The 2019 Hyundai Santa Fe XL is the black sheep of the recently redesigned Hyundai crossover SUV lineup. The Santa Fe XL is the new name for Hyundai's seven-passenger, three-row variant, and arrives at dealerships available in two trim levels and loaded with standard technology and driver-assist feature. The 2019 Hyundai Santa Fe XL continues to be an exceptional option for growing families looking for a reliable daily-driver that can navigate the urban jungle with ease.
What's New for 2019
The Santa Fe XL is a carryover model. Hyundai is in the process of developing an all-new three-row, eight-passenger SUV under a new name that's expected to replace the Santa Fe XL next year.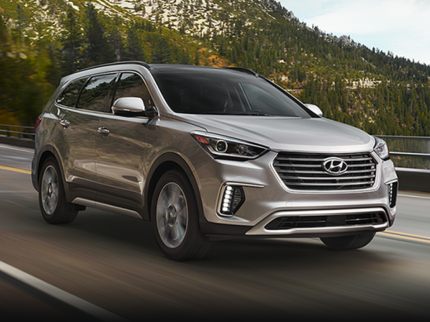 Choosing Your Hyundai Santa Fe XL
If a standard, two-row SUV isn't enough, the 2019 Santa Fe XL is worth a look. This roomy three-row SUV comfortably seats seven passengers, features 50/50-split-folding third-row seating, produces a comfortable ride quality, and is priced reasonably.
Hyundai offers the Santa Fe XL in two trims: the base SE and the enhanced Limited Ultimate. Each Santa Fe XL receives power from a 3.3-liter V6 that produces 290 horsepower and 252 pound-feet of torque. The engine is paired to a six-speed automatic transmission, with front-wheel drive standard. All-wheel drive is offered for an additional $1,750.
CarsDirect Tip
If you're considering a seven-passenger crossover SUV, the 2019 Hyundai Santa Fe XL should be carefully considered. While a new eight-passenger Hyundai vehicle is coming in 2020, it's likely going to put a dent in your pocketbook. For the money, the SE with the SE Premium Package is probably the best value.