The Hyundai Veloster arrived as a fully redesigned hatchback in 2019, giving the automaker a funky compact vehicle with a bold design. With the hatchback entering its fourth model year on sale, we expect the 2022 Hyundai Veloster to be a carryover model.
When Hyundai unveiled the updated Veloster, the hatchback arrived with a compact footprint and an odd three-door design. The current hatchback has larger-than-life styling with an enormous grille, tall fenders, a stubby rear liftgate, and a center exhaust outlet. As a carryover model, we expect the 2022 Hyundai Veloster to continue with the same exterior design.
On the inside, the current Veloster is just as fun as the exterior. We expect the 2022 Veloster to have the same overall interior design as the current model. The dashboard flows directly into a large portion of the center console and transmission tunnel that splits the two front seats. Hyundai also offers a two-tone interior that splits the driver and passenger seat. Large buttons and dials are intuitively laid out on the center console for ease of use.
Standard features on the current Veloster include a 7-inch touchscreen, Bluetooth, Apple CarPlay, and Android Auto. An 8-inch touchscreen, Hyundai's BlueLink telematics system, navigation, voice recognition, an eight-speaker audio system, wireless device charging, and satellite radio. These features will continue to be available on the 2022 Veloster.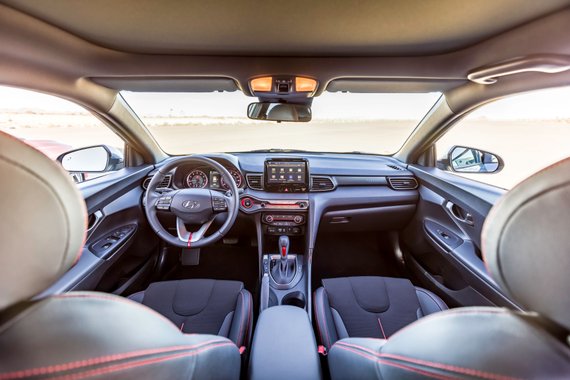 Hyundai offers the Veloster with three different powertrains. The standard engine is a 2.0-liter four-cylinder engine that makes 147 horsepower. The base engine is paired with a six-speed automatic transmission or a six-speed manual. The next step up is a turbocharged 1.6-liter four-cylinder that makes 201 hp. This engine can be paired with a six-speed manual or a seven-speed dual-clutch automatic. The high-performance Veloster N comes with a turbocharged 2.0-liter four-cylinder that makes 275 hp. A six-speed manual transmission and an eight-speed dual-clutch automatic are offered with the Veloster N. The 2022 Hyundai Veloster will be available with the same engines as the current model.
The current Veloster comes with automatic emergency braking, forward collision warning, lane keeping assist, lane departure warning, a rearview camera, and a driver attention monitor as standard. In the IIHS' testing, the current Veloster was named a Top Safety Pick. We expect to see these safety features and ratings carry over for the 2022 model year.