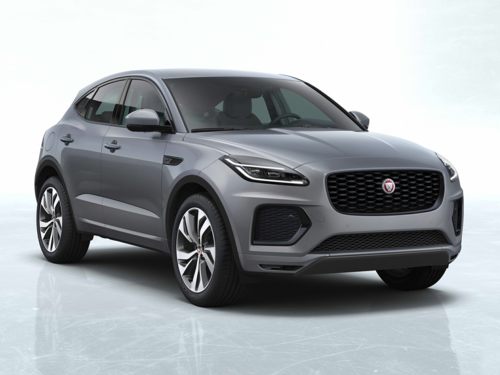 2023 Jaguar E-PACE Prices and Deals
2023 Jaguar E-PACE is here; 2022s are sold out
The 2023 E-PACE is a carryover of the 2022, which has sold out.
Offers are good through November 30, 2022, and we don't expect to see any special deals emerge for Black Friday.
This page is updated monthly with the latest incentives, so be sure to check back next month for the most current information.
Jaguar E-PACE Lease Deals
From $924 per month for 36 months
The estimated lease on a 2023 E-PACE SE P250 with all-wheel drive is up to $924 per month for 36 months with $0 due at signing for an allowance of 7,500 miles per year (compared to last month's estimate of $888 per month for 36 months with $0 due at signing for the same allowance).
An effective monthly cost of $888 is a very poor value given the vehicle's MSRP, and $924 is even worse.
Jaguar E-PACE Rebate Deals
No special offers
Jaguar hasn't offered any rebates on the 2023 E-PACE, which isn't surprising, given that it never announced incentives on the 2022s during their run.
For reference, it did offer as much as $1,000 off a 2021 E-PACE when that model year was still available.
Jaguar E-PACE Finance Deals
No special offers
Promotional finance rates haven't been posted for the 2023 E-PACE yet, either.
Standard rates apply should you choose to go through the manufacturer.
Advertised Lease Deals
2023 Jaguar E-PACE SE P250 AWD (Estimated) Lease Deal
Deal Valid in:
All Regions
This ranks as an excellent deal based on our expert analysis of: vehicle price, length of lease term, amount due at signing, monthly payment, etc.
CarsDirect Target Price
Prices vary by style
CarsDirect
Pricing as of 12/9/22 in 20149
Leases For Similar Cars
Based on 2023 Jaguar E-PACE P250 SE All-Wheel Drive Sport Utility - MSRP $49,175
Insider Information
We have information you must know before you buy the E-PACE. We want to send it to you, along with other pricing insights.
I agree to receive emails from CarsDirect. I understand that I can unsubscribe at any time.
We will not spam you, and will never sell your email. Privacy Policy.
Thank you. You are now subscribed to our Pricing Insider updates.