Model Preview
The 2024 Jeep Wagoneer is most likely set to be a carryover, but a new Wagoneer, dubbed the Wagoneer S for now, is slated to join the lineup. This all-electric vehicle aims to offer the rugged heart of a Jeep with the luxurious comfort of upscale design. This all-new Jeep will expand Jeep's presence in the premium SUV segment.
Consumers shopping for a new 2024 Wagoneer should have no shortage of options since the new long-wheelbase model Wagoneer L and Grand Wagoneer L joined the lineup for the 2023 model year. Except for the new Wagoneer EV, the lineup is set to carry over unchanged. After being introduced as a new model in 2022, the Wagoneer itself is holding steady as a carryover vehicle for 2024. As a carryover, the three-row Wagoneer and Grand Wagoneer models should keep the same overall design as the 2023 models
On the outside, the Wagoneer and Grand Wagoneer models should continue with the same upscale, boxy design. The all-new 2024 Wagoneer S will offer a unique aerodynamic design and the iconic upright design expected of the Wagoneer. The Wagoneer S will also feature a signature LED grille. Though nothing has been confirmed, Stellantis says the SUV is targeting a range of 400 miles per charge, 600 horsepower, and a 0-60 time of around 3.5 seconds.
When it comes to power, the 2024 Wagoneer should continue with the same engine across the lineup for gas-powered models, while the Wagoneer S EV will also join the line. Standard Wagoneer and Grand Wagoneer models get the same twin-turbo 3.0-liter six-cylinder Hurricane engine, though it's re-tuned to produce more horsepower and torque for the Grand Wagoneers. All models are paired with an eight-speed automatic transmission and standard rear-wheel drive. This should remain unchanged for the 2024 model year.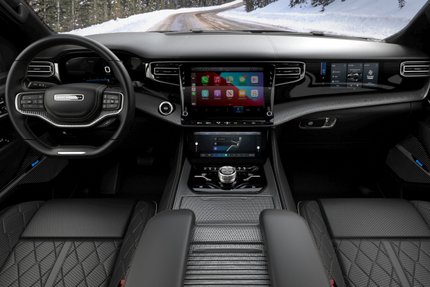 On the inside, Wagoneer has the most passenger volume in its class, leading with the most second- and third-row legroom and headroom. The 2024 Wagoneers should continue with the same V-shaped center console, with a number of physical buttons. Wagoneer models have approximately 75 inches of screens giving them a tech-forward feel, though still luxurious.
The 2024 Wagoneer models should continue with the same features as the current model. The 2023 Wagoneer features a 10.1-inch touchscreen, a 10.3-inch digital instrument cluster, wireless Android Auto and Apple CarPlay, navigation, a Wi-Fi hot spot, eight USB ports, nine audio speakers, and a wireless charging pad. Available features include a 10.3-inch passenger-side touchscreen, two rear 10.1-inch displays, and a 19-speaker audio system. The Grand Wagoneer models will be available with even more high-tech features, including a 12-inch touchscreen, a 12.3-inch digital instrument cluster, a 10.25-inch display in the second-row console, and a 23-speaker McIntosh audio system.
The current Wagoneer comes equipped with active safety features including Automatic emergency braking, lane-keep assist, adaptive cruise control, blind spot monitoring with rear cross-traffic detection, front and rear parking assist, and rain-sensing wipers. Available features should continue to include traffic sign recognition, a head-up display, a driver drowsiness monitor, a surround-view parking camera, and hands-free parking assist. We expect these features to remain the same for the 2024 model.
Pricing & Release Date
We expect the Wagoneer to debut in the spring of 2023. After the Wagoneer S is unveiled early in the year consumers will be able to make a reservation for an all-electric vehicle, which is slated to begin production in 2024.
2024 Wagoneer pricing starts at $63,595, which is the same MSRP as the 2023 model. The more luxurious Grand Wagoneer also retains its 2023 starting price of $92,495. Here is a complete breakdown of 2024 Jeep Wagoneer pricing:
2024 Jeep Wagoneer Pricing
| | |
| --- | --- |
| Trim | MSRP |
| Base 4x2 | $63,595 |
| Base 4x4 | $66,595 |
| L Base 4x2 | $66,595 |
| Series II 4x2 | $68,695 |
| L Base 4x4 | $69,595 |
| Series II 4x4 | $71,695 |
| L Series II 4x2 | $71,695 |
| L Series II 4x4 | $74,695 |
| Series III 4x4 | $79,195 |
| L Series III 4x4 | $82,195 |
2024 Jeep Grand Wagoneer Pricing
| | |
| --- | --- |
| Trim | MSRP |
| Base 4x4 | $92,495 |
| L Base 4x4 | $95,495 |
| Series II 4x4 | $98,595 |
| L Series II 4x4 | $101,595 |
| Series III 4x4 | $112,095 |
| L Series III | $115,095 |
The Wagoneer competes against the GMC Yukon, Ford Expedition, and Cadillac Escalade.
Pictured: 2023 Jeep Wagoneer (Top), 2023 Jeep Grand Wagoneer (Middle)