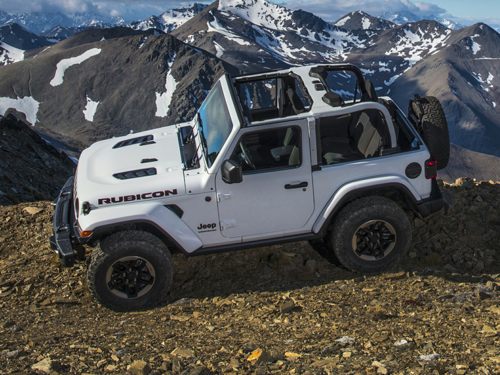 2022 Jeep Wrangler Prices and Deals
2021 Wrangler still in stock; 2022s coming soon
The 2021 Jeep Wrangler remains in adequate supply at dealers nationwide. The Wrangler sells just fine on its own merits, so dealer discounting is rare.
Factory rebates tend to be sporadic and relatively modest. The info listed here is for the two-door model. For the four-door version, see our page for the Wrangler Unlimited.
The carryover 2022 Wrangler should start arriving any day now.
Current promos run through January 31, 2022, unless otherwise noted and can vary by region. Examples listed here are for California. We update this page every month, so check back for the latest news on pricing.
Jeep Wrangler Lease Deals
Offers on pause
It looks like Jeep has ended lease specials on the 2021 Wrangler. We expect offers to resume next month with the arrival of the 2022 Wrangler.
Note that the four-door Wrangler Unlimited (covered in a separate entry) usually costs less to lease due to higher residual values.
Jeep Wrangler Rebate Deals
No cash offers yet
There is no factory rebate on the 2021 Wrangler this month, which isn't surprising.
Jeep might offer modest rebates on the lower trims before the 2021s sell out. Keep in mind the Wrangler has never needed substantial incentives to find willing buyers.
Jeep Wrangler Finance Deals
Rates From 0% APR
Jeep continues to offer 0% financing for 36 months on the 2021 Wrangler.
Longer loan terms are available at incrementally higher rates.
CarsDirect Target Price
Prices vary by style
CarsDirect
Pricing as of 1/21/22 in 20149
Leases For Similar Cars
Based on 2022 Jeep Wrangler Sport 2dr 4x4 - MSRP $33,320
Insider Information
We have information you must know before you buy the Wrangler. We want to send it to you, along with other pricing insights.
I agree to receive emails from CarsDirect. I understand that I can unsubscribe at any time.
We will not spam you, and will never sell your email. Privacy Policy.
Thank you. You are now subscribed to our Pricing Insider updates.