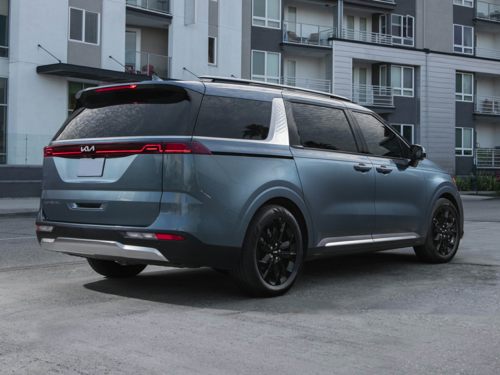 2022 Kia Carnival Prices and Deals
2022 Carnival minivan arriving now
The 2022 Carnival replaces the Sedona, offering a completely new, higher-tech choice for minivan buyers. Inventory is starting to arrive now at dealers across the country.
The model's first incentives are already pretty good, at least when it comes to leasing. Believe it or not, Kia's featured lease has the exact same payment as the 2021 Sedona.
Current offers are good through July 6, 2021. Most offers are available nationally, but lease examples here are for the following states: CA, CO, DE, FL, HI, IL, IN, ME, MI, MN, ND, NE, OH, PA, UT, VT, WI, WY. There is a good chance we'll see an update ahead of Memorial Day, so please check back.
Lease: From $319 for 36 months
You can lease a 2022 Carnival LX from $319 for 36 months with $3,499 due at signing (10,000 miles per year). That comes out to an effective cost of $416, which we consider to be expensive.
That said, Kia's deal on the 2021 Sedona is listed at $319 with $2,999 at signing, or $402/month. Here, shoppers may find the Carnival to be a superior value. Remember to negotiate to get the best price.
Rebates: No cash incentives
Kia isn't offering a cash incentive yet on the 2022 Carnival. We expect that to change in the coming months.
For reference, 2021 Sedona rebates offer up to $3,000 in savings when choosing an EX or SX trim, or $2,000 on the entry-level LX.
Finance: From 1.9% APR for 66 months
You can finance your 2022 Carnival with rates as low as 1.9% APR for 66 months. Alternatively, there are 72 and even 84-month options at 2.9% and 3.9%, respectively.
To put that into perspective, Sedonas are eligible for 0% APR for 66 months, or 0.9% and 1.9% when opting for a 72-month or 84-month loan.
Given the prevalence of 0% APR deals on Kias, we think it's merely a matter of time before the Carnival gets zero-interest financing.
Advertised Lease Deals
Deal Valid in:
CA, CO, DE, FL, HI, IL, IN, ME, MI, MN, ND, NE, OH, PA, UT, VT, WI, WY
This ranks as an excellent deal based on our expert analysis of: vehicle price, length of lease term, amount due at signing, monthly payment, etc.
CarsDirect Target Price
Prices vary by style
CarsDirect
Pricing as of 5/11/21 in 20149
Financing Incentives
Rebate
Amount
Promotional APR Offer

Promotional APR programs available for qualified buyers. Please check with your CarsDirect Trusted Dealer for complete details.

Term(s)

24 - 48

49 - 60

61 - 66

67 - 72

73 - 75

76 - 84

Rate %

1.9%

1.9%

1.9%

2.9%

3.9%

3.9%
Leases For Similar Cars
Based on 2022 Kia Carnival LX Passenger Van - MSRP $33,275
Insider Information
We have information you must know before you buy the Carnival. We want to send it to you, along with other pricing insights.
I agree to receive emails from CarsDirect. I understand that I can unsubscribe at any time.
We will not spam you, and will never sell your email. Privacy Policy.
Thank you. You are now subscribed to our Pricing Insider updates.