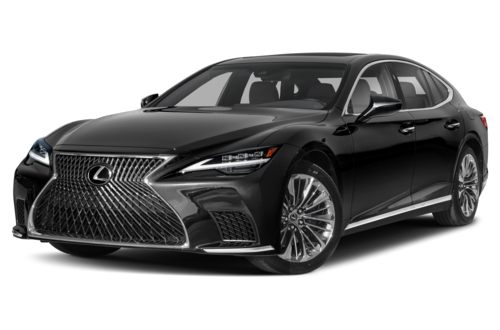 2022 Lexus LS Prices and Deals
2022 Lexus LS is available; 2021s sold out

The 2022 Lexus LS, a carryover model, is arriving at dealerships. The 2021 models are sold out.
Lexus produces the LS in small numbers, therefore very few can be found on dealer lots. That said, placing your order for one could be your best course of action. If you do, you will receive a 2022 model.
We update this page monthly and include the most recent incentives, so be sure to check back for the latest details. The current incentives are in place through January 31, 2022.
Lexus LS Lease Deals
No Lease Offer
Lexus canceled its standard lease offer for the LS sedan in early October.
That offer wasn't especially good as it covered the LS 500 Base model. It required payments of $869 per month for 36 months with $5,999 down. The effective monthly cost was $1,036 and that wasn't a good deal. Ask your Lexus dealer about in-house leasing offers.
Lexus' lease deals include 10,000 miles per year of driving allowance. At lease end, you will pay a disposition fee.
Lexus LS Rebate Deals
No Cash This Month
Lexus canceled its previous cash offer earlier this month.
Although the standard offer is gone, Lexus does have a $1,000 College Graduate Program rebate and a Military Reward Program with its own $1,000 reward. Check with your Lexus dealer to determine eligibility for either program.
Lexus LS Finance Deals
No Special Financing Rates

Lexus is not offering the 2022 LS with special financing rates this month.
Previously, we saw Lexus offer the 2021 LS with a few special financing rates. A 60-month financing deal with an APR rate of 1.9% was available, as was a 72-month deal at a rate of 2.49%. These rates were competitive for the luxury segment.
CarsDirect Target Price
Prices vary by style
CarsDirect
Pricing as of 1/28/22 in 20149
Leasing Incentives
Rebate
Amount
Lease Loyalty Bonus Cash

Lexus US Lexus Lease Loyalty Program

(Expires 3/31/22)

Lease loyalty bonus cash available for current lessees of the same make. Please check with your CarsDirect Trusted Dealer for complete details.%Qualification% The customer must provide proof of being a current owner or lessee of any Lexus model; lease a new eligible model through a participating Lexus dealership; trade-in of current vehicle is not required.

$1,000
Leases For Similar Cars
Based on 2022 Lexus LS LS 500 Base 4dr Rear-Wheel Drive Sedan - MSRP $77,075
Insider Information
We have information you must know before you buy the LS. We want to send it to you, along with other pricing insights.
I agree to receive emails from CarsDirect. I understand that I can unsubscribe at any time.
We will not spam you, and will never sell your email. Privacy Policy.
Thank you. You are now subscribed to our Pricing Insider updates.