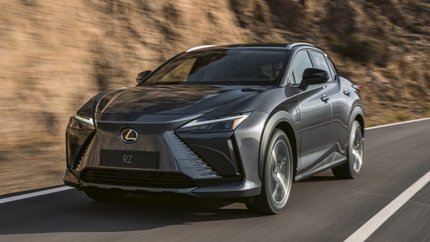 Model Preview
The Lexus RZ will be a new EV model for the 2023 model year. Although Lexus is known for making reliable, fuel-efficient luxury hybrids, the 2023 Lexus RZ will be the brand's first 100%-electric crossover SUV. Inspired in part by the popular Lexus RX, the first model in the new series will be the RZ 450e.
In terms of styling, the Lexus RZ has a familiar spindle-shaped grille and headlight design. However, around back, a unique roofline gives way to a ducktail trunk design said to reduce aerodynamic drag and increase stabilizing downforce. Inside, a large panoramic roof illuminates a somewhat minimalist cabin.
Interestingly, an unusual yoke steering wheel previewed in an early concept version of the RZ will reportedly not be available at launch. At some point later, Lexus will introduce an optional steer-by-wire system that relies on electrical signals rather than a mechanical process to communicate steering feel.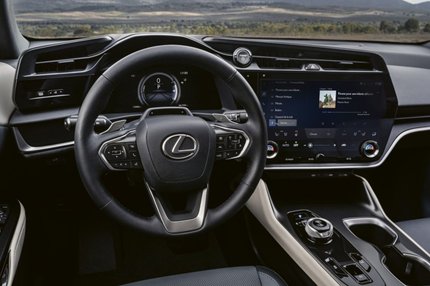 Lexus estimates that the 2023 RZ will have a range of up to 225 miles on a single charge with the standard 71.4 kWh battery, a figure that's far less than a Tesla Model Y (currently 330 miles in base form). However, it's generally on par with the 252-mile Toyota bZ4X, with which the RZ is mechanically related.
As far as power, the new Lexus RZ is said to produce 308 horsepower. Although the RZ doesn't travel as far as the bZ4X from the mainline Toyota brand, it does produce quite a bit more power. For reference, the bZ4X makes 201 horsepower, a large difference that could help make the RZ more exciting to drive.
The 2023 Lexus RZ will also come standard with a new all-wheel drive system. Dubbed DIRECT4, the system makes use of a specially-designed electronic axle motor to dynamically respond to road conditions for better cornering as well as more efficient acceleration, load-handling, and torque distribution.
Lexus RZ safety features will offer a full range of driver assistance technology. The 2023 RZ will come standard with Lexus Safety System+ 3.0 (LSS+ 3.0), which includes adaptive cruise control, automatic emergency braking, lane-departure warning with lane tracing, and more, plus optional parking assist.
Expect a full review closer to launch.
Pricing & Release Date
The Lexus RZ 450e is on sale and expected to begin arriving soon at dealers.
Official 2023 Lexus RZ 450e prices will start at $59,650 including destination for the Premium trim. That's in line with our early estimates and will make the EV about as expensive as a fully-loaded Lexus RX Hybrid. The most expensive RZ 450e will start at $65,150.
In terms of RZ 450e incentives, we do not yet know if the SUV will qualify for traditional EV rebates. Although the Lexus RZ isn't expected to qualify for a $7,500 federal tax credit since it's built overseas, a loophole may enable Lexus to claim a $7,500 commercial tax credit on leases.
Early indications are that Lexus will keep the tax credit on leases but may offer low lease rates instead. In addition, state incentives like the California Clean Vehicle Rebate have a $60,000 MSRP cap on SUVs and the Lexus RZ may (barely) qualify for the plug-in rebate.
The Lexus RZ will likely compete with vehicles like the Tesla Model Y, Audi Q4 e-tron, and Volvo XC40 Recharge.
Pictured: 2023 Lexus RZ