The littlest SUV in Lincoln's lineup gets a major makeover inside and out for 2019, giving it the looks and lengthy list of luxury features traditional buyers expect from the brand. To bring new shoppers into showrooms, just as much effort has been expended to ensure the 2019 Lincoln MKC comes equipped with the latest safety technology and infotainment features.
What's New for 2019
The most noticeable change is the MKC inherits the family's new nose treatment, including the Lincoln-symbol mesh rectangular grille and LED headlights, and a restyled rear end. Automatic emergency braking and pedestrian collision avoidance have been added to the MKC's safety tech suite, and Android Auto, Apple CarPlay, and a WiFi hot spot have been added to its infotainment system.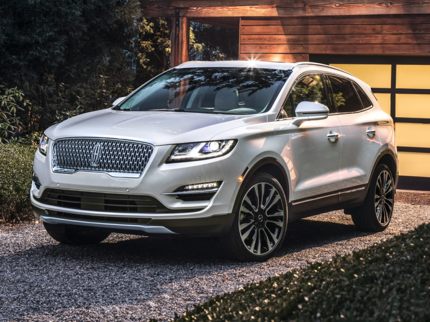 Choosing Your Lincoln MKC
Beyond its $34,920 (all prices include the $925 destination charge) base model, Lincoln chose to pull the MKC's trim level titles from the world of wine making, with – in ascending order – the Select, Reserve, and Black Label.
All trims get a twin-turbocharged 2.0-liter inline-four engine with 245 horsepower and 275 pound-feet of torque with automatic stop/start as standard. Reserve trim and above MKCs can be had with an optional 285-hp, 305-lb-ft of torque, 2.3-liter turbo inline-four for $1,140.
Front-wheel drive is the order of the day across the board for this five-seater, with all-wheel drive – and its accompanying three-mode adaptive suspension system – universally available for $2,410. Regardless of trim or configuration, the MKC puts its power down through a six-speed automatic transmission with center stack push button and steering-wheel-mounted paddle shift controls.
The MKC is available in four trims: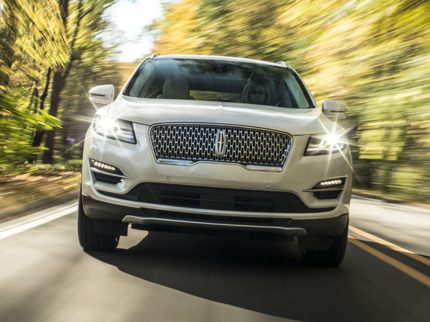 CarsDirect Tip
Though the base 2019 Lincoln MKC boasts a decent set of standard equipment, the Select model is where to go if you want leather, navigation, and a panoramic roof for the lowest MSRP. If you find you can't do without the full safety suite and the model's finest infotainment system, be prepared for an MSRP north of $45,000.