The 2023 Mazda MX-5 Miata is being offered as a carryover model. Changes to it have been minimal in the last couple of years, but it still remains one of America's most popular sports cars. Here's a brief look at some of the most noteworthy developments for potential Miata buyers.
The fourth-generation Miata, or ND, Miata has been on sale since the 2015 model year. It has also been offered with a folding metal roof (called the RF for Retractable Fastback) since 2016. The only change for the 2023 Miata is the Zircon Sand paint option, but it did get a more notable change last year. The 2022 model saw the introduction of Kinematic Posture Control, which applies the brakes to the inner wheel during hard cornering, limiting body roll.
The 2023 Miata is offered in three trims, the upper two of which are available as RF models. The base Sport trim offers a 7" smartphone-compatible touchscreen, Bluetooth, keyless entry, and Mazda's i-Activesense safety suite. The mid-level Club adds 17" alloy wheels, vinyl interior accents, LED daytime running lights, and a Bose 9-speaker stereo. The range-topping Grand Touring adds heated leather seats (Nappa leather is optional), heated mirrors, navigation, automatic climate control, automatic headlights, and automatic wipers.
The Club is also available with Brembo BBS Recaro package, which as the name suggests, adds upgrades brakes, wheels, and seats, as well as an aero kit. It's a $4,500 option, but likely to be popular among enthusiasts. This package is needed for the Club to be available as an RF, although it's also available as a soft top.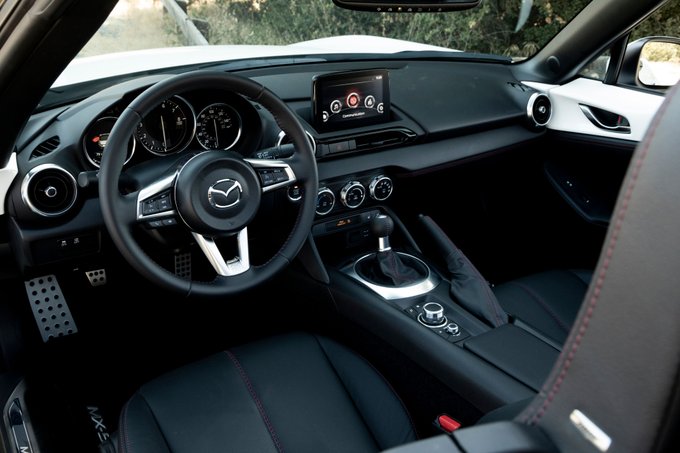 All Miata trims are powered by Mazda's 2.0-liter four-cylinder, developing 181 hp and 151 lb-ft of torque. These aren't huge numbers, but the car only weighs about 2,300 pounds and handles like it's on rails. Transmission options are a six-speed manual and a six-speed automatic, although you'll need to upgrade to the Grand Touring for the automatic. There is reportedly a hybrid powertrain in the works, but we won't see that until at least 2024.
The 2023 Miata Sport starts at $29,325 (including destination), with the Club starting at $32,825, and the top-of-the-line Miata Grand Touring at $34,125. RF models carry a $2,500 premium over the soft tops.
The Miata's only real competitors at this price point are the Toyota 86 and Subaru BRZ, which are actually the same vehicle underneath. That being said, the Miata still punches above its weight in terms of driving dynamics, despite being an older design.
We expect the 2023 Miata to go on sale before the end of 2022.
Pictured: 2023 Mazda MX-5 Miata