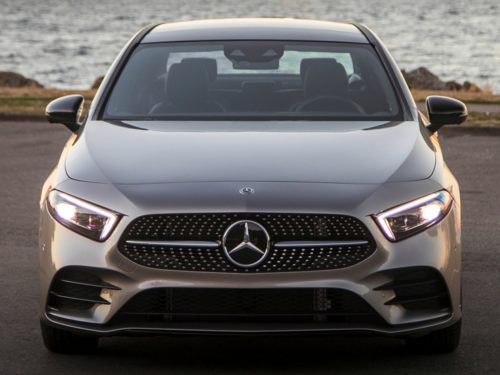 2022 Mercedes-Benz A-Class Prices and Deals
The A-Class is nearly gone

The A-Class is Mercedes' entry-level model that's packed with the latest technology. The carryover 2022 A-Class is in showrooms now and has all the same offers as last month. Dealerships are experiencing inventory shortages, so you may have a hard time finding the perfect A-Class for you.
If you're looking to buy an A-Class, you may want to hurry. Mercedes will discontinue it for the 2023 model year due to lagging sales. The larger CLA-Class will remain, but its MSRP is over $4,200 higher than the A-Class.
Current offers are available nationally through September 30, 2022. This page is updated monthly with the latest incentives, so be sure to check back for the latest information.
Mercedes-Benz A-Class Lease Deals
Lease from $449 per month
The 2022 A220 Sedan's 36-month lease runs $449 per month with $3,623 due at signing. With an effective monthly cost of $547, this is not a good deal relative to its MSRP.
These promotional leases allow up to 10,000 miles per year.
Mercedes-Benz A-Class Rebate Deals
No cash offers
The 2022 A-Class has no cash rebates.
We could see them come at some point later this year when inventory levels start catching up.
Mercedes-Benz A-Class Finance Deals
No low APR
The 2022 A-Class has no APR offers this month.
Mercedes has cut special financing rates on all models, but your local dealer may still be able to help you with financing, so be sure to ask.
Advertised Lease Deals
2022 Mercedes-Benz A-Class A220 Sedan Lease Deal
Deal Valid in:
All Regions
This ranks as an excellent deal based on our expert analysis of: vehicle price, length of lease term, amount due at signing, monthly payment, etc.
CarsDirect Target Price
Prices vary by style
CarsDirect
Pricing as of 9/26/22 in 20149
Leases For Similar Cars
Based on 2022 Mercedes-Benz A-Class A 220 Base Front-Wheel Drive Sedan - MSRP $35,000
Insider Information
We have information you must know before you buy the A-Class. We want to send it to you, along with other pricing insights.
I agree to receive emails from CarsDirect. I understand that I can unsubscribe at any time.
We will not spam you, and will never sell your email. Privacy Policy.
Thank you. You are now subscribed to our Pricing Insider updates.