In 2017, the fifth-generation Mercedes-Benz E-Class rolled into showrooms boasting a luxurious yet sporty new look and more. In 2021, Mercedes massaged the E-Class, keeping it up with the times. With its refreshed exterior entering just its second model year, we expect the 2022 E-Class will be a carryover model.
As usual for Mercedes, the 2021 E-Class refresh was subtle, as its visual updates included only new bumpers. Otherwise, the bulk of this luxury midsize sedan retained its luxury-meets-sport looks, including its long hood, short overhangs, relatively stubby trunk, and swoopy roofline. Though it was subtle, this refresh allows Mercedes to stay pat with the E-Class for a few years, so we expect no visual updates to the 2022 E-Class. We also expect the E-Class to continue offering its robust range of body styles, including the sedan, coupe, wagon, and cabriolet.
Inside, the 2021 E-Class updates were even less dramatic. In fact, there was only one notable update: a new steering wheel. Despite its lack of updates, this cabin remains as modern as they come with its circular air vents, contrasting colors, side-by-side LCD screens, flat-bottom steering wheel, and more. We expect the 2022 E-Class to continue with the same interior looks.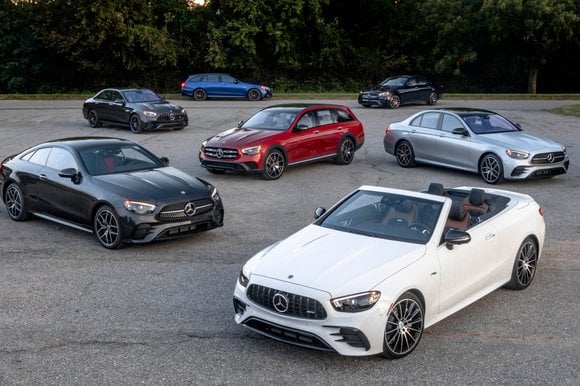 The current E-Class lineup not only has a broad range of body styles, but it also has a powertrain for every type of buyer. It all starts with the E350 and its 255-horsepower 2.0-liter turbocharged four-cylinder engine that delivers power to the rear or all four wheels.
Up a notch is the E450 with its mild-hybrid 3.0-liter V6 that pumps out 362 hp. The AMG E53 also uses the mild-hybrid 3.0-liter V6, but its output rests at 429 ponies. Topping the range is the AMG E63 and its 603-hp 4.0-liter Biturbo V8. We expect the 2022 E-Class to continue with the same powertrain options.
The IIHS hasn't tested the 2021 E-Class yet, but the 2020 model is a Top Safety Pick+. We expect its top-notch crash test ratings to continue unchanged through 2022, which would likely mean its Top Safety Pick+ rating will remain in 2022 too. The current E-Class' standard safety features include automatic emergency braking, blind-spot monitors, parking sensors, and Pre-Safe, which sounds an alert when a collision from behind is imminent. We expect these standard safety features to remain the same in 2022 too.
Pricing & Release Date
Mercedes has the 2022 E-Class available for order now with pricing starting at $56,000.
This midsize luxury sedan will battle the BMW 5-Series, Audi A6, and Jaguar XF.
Pictured: 2021 E-Class