The E250 BlueTEC continues a decades-long Mercedes tradition of high-quality diesel-fueled sedans. Unlike some of its predecessors, the E250BlueTEC now combines serious torque and good acceleration with typically excellent fuel economy.
What's New for 2016
The E250, like its E-class siblings, is effectively unchanged for 2016.
Choosing Your Mercedes-Benz E250 BlueTEC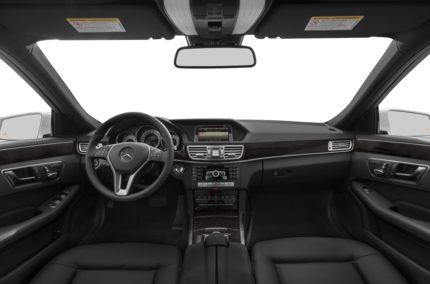 This is not your eccentric uncle's German-taxicab-tan Mercedes 240D that's as solid as a granite boulder and almost as fast. The trademark Mercedes-Benz engineering and structural integrity are still there but the E250 BlueTEC benefits from the latest in diesel technology which greatly improves engine output and response. The 2.1-liter inline-four is boosted by two turbochargers, producing 195 horsepower and a very effective 369 pound-feet of torque. The transmission is a seven-speed automatic.
The E250 BlueTEC is available either with traditional rear-wheel drive at a base MSRP of $52,650 (including delivery) or with Mercedes-Benz's computer-regulated 4MATIC all-wheel-drive system at a $2500 premium. EPA estimated mileage is impressive for a large, luxurious sedan: 28 mpg city cycle and 42 mpg highway for the rear-driver, 27 city/38 highway for the 4MATIC.
Diesel traditions aside the E250 BlueTEC is a thoroughly modern Mercedes-Benz, which means the features list is long and impressive. Standard equipment includes a radar collision prevention and mitigation system, the COMAND infotainment system, a driver-alertness monitor, dual-zone climate control, a glass sunroof, and the OnStar-like mbrace telematics system.
Available options are more supplements to that standard equipment than direct add-ons. The $4180 Premium Package expands COMAND to include navigation and SiriusXM radio and adds heated seats. Select leather upholstery ($1620, or $2990 for the sumptuous Nappa leather) and ventilation for the seats can be included.
The Driver Assistance Package adds $2800 and uses the collision-prevention radar to run DISTRONIC cruise control and Brake Assist Plus; it also includes blind-spot and pedestrian sensors and a lane-keeping feature.
A no-cost Sport Styling Package featuring a somewhat more aggressive nose design and stiffer suspension is also available. Standalone options such as a panoramic roof, PARKTRONIC automatic parking assistance, and a $1910 rear-seat DVD theater system are also available.
CarsDirect Tip
The E250 BlueTEC is the definitive traditional Mercedes-Benz in its heavyweight solidity and restrained dignity, so the Sport Styling package is perhaps a bit out of place. On the other hand the Premium Package's upgrades to the COMAND system are a fine support system for the 500-mile days which the E250 BlueTEC is so effortlessly able to deliver.
Get your price on a Mercedes-Benz E250 BlueTEC »