Take everything that the Mercedes E-Class stands for -- tasteful luxury, exceptional engineering, deep consideration of ergonomics and safety -- and add massive amounts of power (and the ability to harness it effectively) and you have the AMG E63 S, a comfortable and dignified machine that just happens to have the soul and performance of a race car under the sheet metal.
What's New for 2016
In the fine tradition of luxury-brand continuity, there are no meaningful changes to the AMG E63 S for 2016.
Choosing Your Mercedes-Benz AMG E63 S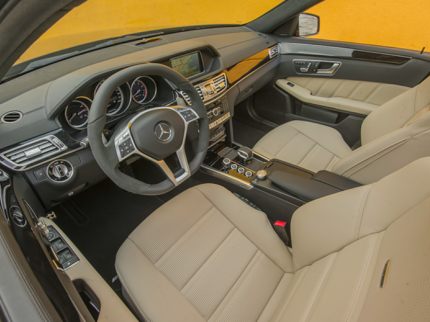 Your German power trip is available as either a sedan or station wagon complete with rearward-facing third-row seats. The driveline is the same in either case: a handbuilt twin-turbocharged 5.5-liter V8 puts 577 horsepower and 590 pound-feet of torque to all four wheels through a specially-calibrated seven-speed automatic transmission. Mercedes confidently claims a shattering 0-to-60 time of 3.5 seconds for the sedan. (Add one-tenth of a second for the wagon.) A continuously adaptive suspension keeps everything balanced and enormous brakes clamp the whole show to a rapid halt when necessary. MSRP is $101,700 for the sedan and $104,300 for the wagon.
Given that the AMG E63 S has a different mission in life than its E-Class sisters, its equipment situation is structured a bit differently. To start, just about everything that is optional on the more mainstream cars is standard here, including the Lighting Package and Nappa leather. (Lane tracking and Driver Assist are still optional.)
Things get more interesting when you consider options exclusive to the AMG E63 S. Ultra-high-performance carbon-ceramic brakes are an $8,950 extra. Fine wood interior trim can be replaced by carbon fiber, and the exterior can be dressed in accents made of the same lightweight high-strength material. All that power and dynamic balancing is put to the ground through your choice of 19-inch wheels.
Past that, more individual preferences can still be expressed. Choose the Panorama roof and the AMG E63 S's occupants can watch that much more of the world blur by. The $5,400 Bang & Olufsen BeoSound stereo system is available to promote even greater sensory overload. And if you want to make sure that everyone who sees you coming knows just what's on the way, the three-pointed star in the grille can be illuminated.
CarsDirect Tip
Personal preference is the rule here, but the idea of a seven-seat station wagon packing the power and moves to duel with Corvettes and Porsches is irresistible.
Get your price on a Mercedes-Benz AMG E63 S »