Mercedes-Benz added to its small-crossover lineup in 2020 with the all-new GLB-Class, which brought the G-Class' boxy appeal to the compact class. With it entering just its third model year, we expect the 2022 Mercedes-Benz GLB-Class to be a carryover model.
In 2020, Mercedes filled out its compact crossover segment with the boxy GLB-Class. This G-Class-inspired design stands out in a crowd with its upright glasshouse and grille, strong body lines and creases, and more. With this design still fresh, we expect no visual changes to the 2022 GLB-Class.
Inside, the three-row GLB-Class continues its G-Class gleaning with an upright dash but with a far more modern touch. This dash includes rounded air vents, a dual-LCD setup, contrasting color and trim options, and even a flat-bottom steering wheel. With this interior being among the most modern in Mercedes' lineup, we expect no updates to the 2022 GLB-Class' cabin.
The current GLB-Class is surprisingly well-equipped. Its standard features include dual 7-inch LCD screens, Apple CarPlay, Android Auto, power front seats, keyless start, LED headlights, 18-inch wheels and run-flat tires, and a power tailgate. We expect this standard equipment to remain the same in the 2022 GLB-Class.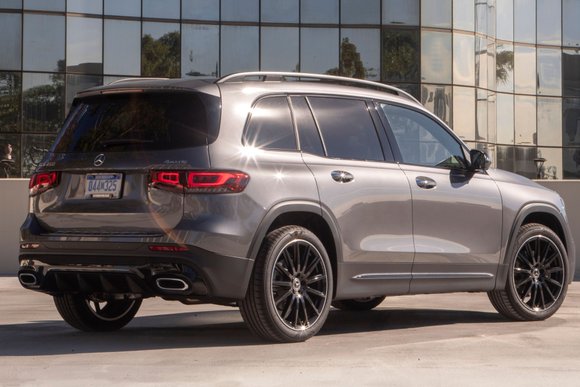 The 2021 GLB-Class comes in a pair of tunes, starting with the base GLB250. This entry-level model boasts a 2.0-liter turbocharged four-cylinder engine that pumps out 221 horsepower and 258 pound-feet of torque. Folks seeking more power can opt for the upcoming AMG GLB35, which will include a 302-hp 2.0-liter. All-wheel drive is standard on all current GLB-Class models. We expect these powertrain options to remain the same in the 2022 GLB-Class.
Neither the IIHS nor NHTSA has tested the GLB-Class for safety, but it comes standard with automatic emergency braking and blind-spot monitors. Buyers can also add adaptive cruise control, automatic lane changing, automatic park assist, and a surround-view camera. We expect these standard and optional safety features to remain the same in the 2022 GLB-Class.
Pricing & Release Date
Mercedes hasn't announced an on-sale date for the 2022 GLB-Class yet. Based on previous on-sale dates, we expect it to arrive in the spring of 2021.
Pricing also remains uncertain, but with no changes in the works, we expect the 2022 GLB-Class to remain close to the current model's $39,045-$41,045 (destination fees included) MSRP range. The AMG GLB35's pricing isn't available yet and not included in the MSRP range.
This compact crossover will compete with the Land Rover Discovery Sport, Jaguar F-Pace, and Volvo XC60.
Pictured: 2020 GLB-Class