Mercedes-Benz introduced the GLE-Class as a replacement for the M-Class in 2016. In 2020, the GLE was fully redesigned, giving the automaker a much-needed competitor in the midsize segment. With the GLE entering its third model year on sale since the redesign, we expect the 2022 Mercedes-Benz GLE-Class to be a carryover model.
When the GLE arrived as an all-new SUV in 2020, it appeared on the scene with high-end, muscular lines. The SUV's broad fenders, wide grille, and brawny hood all highlight the GLE's large stature. At the back, the GLE has relatively small diamond-shaped taillights, two large exhaust pipes, and smooth edges. We expect the 2022 Mercedes-Benz GLE-Class to continue with the same overall design.
On the inside, the current GLE is a high-tech marvel. The dashboard has a unique, tiered design that's split by square air vents. The GLE has few buttons, the majority of which are located in a horizontal strip on the bottom of the center console. Mercedes' infotainment system can be controlled via a touchpad, which frees up a lot of space on the center console. The interior design of the 2022 GLE is expected to remain the same as the current model.
Mercedes currently offers a 12.3-inch touchscreen, a 12.3-inch digital gauge cluster, Apple CarPlay, Android Auto, five USB ports, a wireless smartphone charger, navigation, and satellite radio as standard equipment. Optional features include a Burmester audio system. As a carryover model, the 2022 GLE is expected to have the same tech features.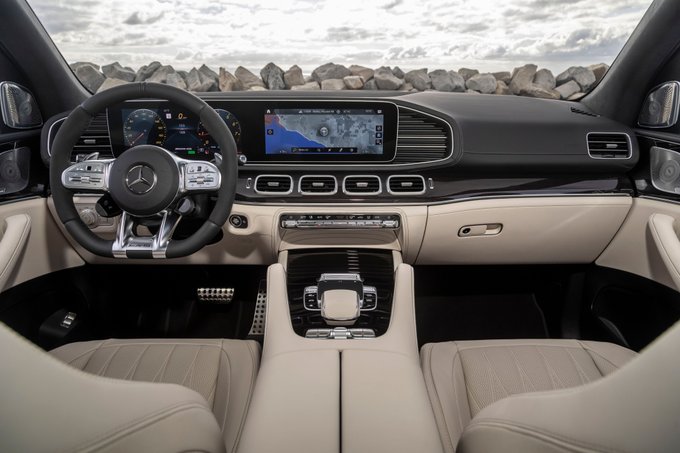 The 2022 Mercedes-Benz GLE is expected to have five available powertrains. The base engine is a turbocharged 2.0-liter four-cylinder that produces 255 horsepower. A supercharged 3.0-liter inline-six engine with a mild-hybrid system is also available, generating 362 hp. A twin-turbocharged 4.0-liter V8 engine is also offered, which is rated at 483 hp. The AMG GLE 53 has a 429-hp version of the inline-six engine, while the AMG GLE 63 S has a 603-hp variant of the V8. All engines are paired with a nine-speed automatic transmission. Rear-wheel drive is standard, while all-wheel drive is available.
Standard safety features on the current GLE include parking sensors, blind spot monitoring, hands-free park assist, forward collision warning, pedestrian detection, automatic emergency braking, pedestrian detection, and a driver drowsiness monitor. In testing conducted by the IIHS, the GLE was named a Top Safety Pick+. We expect the safety features and the safety ratings to remain the same for the 2022 GLE.