2024 Mercedes-Benz GLE-Class Changes
The 2024 Mercedes-Benz GLE receives a modest mid-cycle refresh with new styling for the wheels, bumpers, and lighting, technology updates for the infotainment controls, and, most notably, the launch of a plug-in hybrid model. If you're having a tough time you're not alone. Mercedes has released information on only a few models and its build configurator is not yet live. Here's what we know.
Choosing Your 2024 Mercedes-Benz GLE-Class
The 2024 Mercedes-Benz GLE is available with a wide range of base prices that are aligned to the different powertrains. The GLE 350 is the least expensive trim with a starting price of $63,800 and the AMG 63 S is the most expensive. Mercedes has yet to release the starting prices for certain models, however, the 2023 AMG 63 S started at $117,900, which is expected to be eclipsed by the 2024 model's price.
2024 Mercedes-Benz GLE-Class Engine Options
The GLE is offered with a range of powertrains that will suit nearly everyone's needs. In fact, the only configuration being left off the menu is a full electric version - for that look to the Mercedes-Benz EQE SUV.
All powertrains are equipped with a nine-speed automatic and an all-wheel-drive system except for the base model which is rear-wheel. The very capable all-wheel drive system can be added for $2,500 and sacrifices just one EPA-estimated MPG point.
Those looking for the best MPG ratings will no doubt be impressed with the new-for-2024 GLE 450e and its plug-in hybrid powertrain. Its 23.3-kWh battery pack is estimated to serve up at least 40 miles of range on a full charge and accelerate to 60 miles per hour in less than six seconds - plenty quick for most.
Recharging will take about 2.5 hours on a 240-volt outlet. A more powerful charging station can boost the charge from 20% to 100% in just 10 minutes. Its engine is the 2.0-liter turbocharged four-cylinder that is essentially the same as the one that solely powers the GLE 350.
The GLE 450e is not to be confused with the GLE 450, which utilizes a mild-hybrid system (as do the other powertrains in the line-up) to provide assistance, most notably off the line, while the turbocharger is spooling up.
The GLE 450 and GLE 580 receive significant power bumps over last year's models while the AMG models carry over their specially tuned and assembled engines.
| | | | |
| --- | --- | --- | --- |
| Model | Engine Type | Horsepower / Torque | Fuel Economy (Combined) |
| GLE 350 | 2.0L 4-Cylinder Turbo with mild-hybrid | 255 hp / 273 lb-ft | 24 /23 mpg (RWD/AWD) |
| GLE 450 | 3.0L 6-Cylinder Turbo with mild-hybrid | 375 hp / 369 lb-ft | 22 mpg |
| GLE 450 e | 2.0L 4-Cylinder Turbo with mild-hybrid | 381 hp / 479 lb-ft | TBD |
| GLE 580 | 4.0L V8 Twin-Turbo with mild-hybrid | 510 hp / 538 lb-ft | 18 mpg |
| AMG 53 | 3.0L 6-Cylinder AMG Turbo with mild-hybrid | 429 hp / 384 lb-ft | 20 mpg |
| AMG 63 S | 4.0L V8 AMG Twin-Turbo with mild-hybrid | 603 hp / 627 lb-ft | 16 mpg |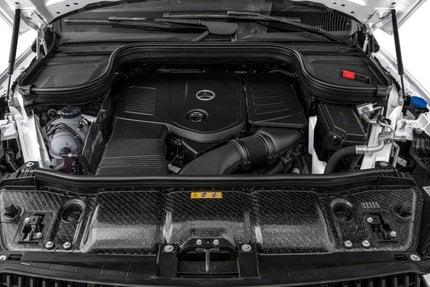 2024 Mercedes-Benz GLE-Class Fuel Economy
According to the EPA, the GLE 350 in rear and all-wheel drive guise earns 24 mpg, a jump of two points over last year's model. The AMG 53 earns one point better, and the AMG 63 earns one point less although fuel efficiency is obviously not that model's top priority. The 2024 GLE 580 has not yet been rated nor has the GLE 450e.
2024 Mercedes-Benz GLE-Class Towing Capacity
The GLE is impressively capable (when properly equipped) and all-wheel-drive models carry a 7,700-pound towing rating.
2024 Mercedes-Benz GLE-Class Dimensions & Cargo Capacity
The GLE is 194 inches in length which is about the same size as the BMW X5. The GLE AMG trims are offered with a sloping coupe-like roofline which competes directly with the BMW X6.
The SUV body-style version of the GLE seats five and offers a third row for $2,100 to increase passenger capacity to seven, although those looking for ultimate space should consider the Mercedes-Benz GLS. The GLE offers 33.3 cubic feet of space behind the second row and 75 cubic feet with it folded. There is no loss in interior space with the plug-in hybrid's additional hardware and the GLE is notably more spacious than the X5.
The GLE Coupe sacrifices cargo capacity for styling and its interior measures 27.5 cubic feet behind the rear seat and 63.2 cubic feet with the back seat folded. The third-row is not available in the GLE Coupe, the AMG trims, or the plug-in hybrid model.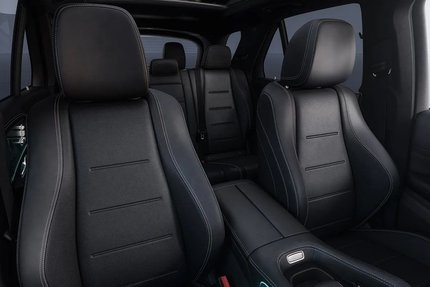 2024 Mercedes-Benz GLE-Class Safety
The base GLE is well equipped with automatic emergency braking, blind-spot detection with rear cross-traffic alert, adaptive headlights with automatic high beams, and parking assist capability.
The Driver Assistance Package is offered for $1,950 and includes adaptive cruise control with lane keep assist, traffic jam assist, evasive steering assist, front cross-traffic automatic braking, and road sign recognition.
The GLE 580 and AMG trims include the Driver Assistance Package as standard. A crisp surround-view camera is easily accessible in the Premium Package for $1,375 (standard on the GLE 580 and AMG models) and a head-up display is offered on all trims for $1,100.
2024 Mercedes-Benz GLE-Class Technology
All trims feature a 12.3-inch touchscreen that is physically connected to the driver's gauge cluster - also 12.3 inches. Wireless Apple CarPlay and Android Auto, SiriusXM, HD Radio, and five USB-C ports are included. There's also a wireless phone charger.
The Premium Package (noted above) also includes a 13-speaker Burmester sound system with 13 speakers and nine channels and an AC outlet. The augmented navigation with a forward-facing camera display is available for $350.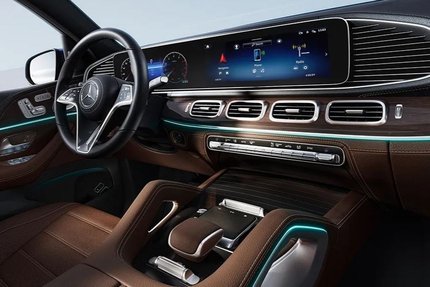 2024 Mercedes-Benz GLE-Class Trims & Prices
2024 Mercedes-Benz GLE 350 4MATIC - MSRP From $61,300
Build & Price >
The base GLE model is equipped with 19-inch wheels, LED headlights and tail lights, molded-in black fender flares, heated power-folding mirrors with integrated turn signals, a sunroof, proximity entry, and a hands-free power tailgate. The interior boasts heated 12-way synthetic leather seats with memory positioning for the driver, a new steering wheel with touch controls, a digital gauge cluster, and brushed aluminum interior trim.
In typical Mercedes fashion, there is a long list of available packages and individual features.
The AMG Line Exterior package is offered for $3,150 and includes larger 20-inch wheels, upgraded brake rotors, revised front and rear bumpers, a grille with chrome patterns, body-color fender flares, and a rear diffuser integrated into the lower rear bumper. The AMG Line Interior is available for $3,400 and adds Nappa leather seats and a flat bottom sport steering wheel.
The Warmth and Comfort Package features rapid-heating front seats as well as heated front armrests and door panels for $1,050 while ventilated seats can be had for $450, heated rear seats for $500, and a heated steering wheel can be installed for $250.
The ventilated seats are otherwise included in the $1,600 Exclusive Trim package that also includes upgraded technology.
The Pinnacle Trim can be ordered instead for $5,600, although it additionally requires leather seats ($1,620). That package includes the Warmth and Comfort Package, massaging front seats, a head-up display, an air purification system with fragrance, temperature-controlled cup holders, and exterior approach lighting.
2024 Mercedes-Benz GLE 450 - MSRP From $70,650
Build & Price >
The six-cylinder GLE is similarly equipped as the GLE 350 although it additionally offers adaptable air suspension for $1,710, the Acoustic Comfort Package for $1,100 that includes sound-insulated side windows, and an extended leather package for $2,990.
2024 Mercedes-Benz GLE 450e - MSRP From $70,650
Build & Price >
The new plug-in hybrid model matches the GLE 450 in terms of features and pricing.
2024 Mercedes-Benz GLE 580 - MSRP From $85,000 (2003)
Build & Price >
The twin-turbo V8 model features the AMG Exterior Line and includes the Premium package and leather seating.
2024 Mercedes-Benz GLE AMG 53 - MSRP From $78,100 (2023)
Build & Price >
The AMG 53 distinguishes itself with a high-output engine supplemented by an adaptive sport suspension and performance-tuned transmission. The AMG exterior and interior packages are also standard.
The AMG also uniquely offers the $5,200 AMG Dynamic Plus Package that includes additional driving modes, active roll stabilization, high-performance brakes, a performance data recorder, and unique microfiber inserts and steering wheel. It also offers the same features as the GLE 580.
2024 Mercedes-Benz GLE AMG 63 S - MSRP $117,900 (2023)
Build & Price >
The AMG 63 S includes the AMG Dynamic Plus Package - ideal for its 600+ HP twin-turbo V8.
CarsDirect Tip
The GLE 450e offers an impressive EV range without sacrificing the ultimate utility and flexibility that has made the mid-size crossover segment so popular. Its likely rebates - it is assembled in the U.S.A. - will also increase its sense of value.