The Mercedes-Benz GLS-Class is the largest, most luxurious SUV in the automaker's lineup. Mercedes rolled out an all-new GLS in 2020, bringing a competitive large SUV to a popular segment. With the SUV entering its third model year on sale, we expect the 2022 Mercedes-Benz GLS to be a carryover model.
When the GLS arrived, it featured muscular, yet sedate styling. The SUVs elongated hood, oversized grille, and high fenders give the GLS an imposing front end. The back of the SUV has rounder edges, oval taillights, and large exhaust outlets. For a pricey, large SUV, the GLS has an understated design in a flashy segment. We expect the carryover 2022 Mercedes-Benz GLS to have the same design.
On the inside, the GLS ups the ante when it comes to luxury. The elongated dashboard has a split design that separates the massive screens from a horizontal strip of buttons with a set of square air vents. The touchpad, which is used to control the infotainment system, sits far back in the center console to be easier for the driver to access. Mercedes' largest and most opulent SUV features some of the finest materials on the market. As a carryover model, the 2022 GLS will share the same design as the current model.
The current GLS comes with a 12.3-inch touchscreen and a 12.3-inch digital instrument cluster. Apple CarPlay, Android Auto, eight USB ports, Bluetooth, wireless smartphone charging, a 13-speaker Burmester audio system, and satellite radio as standard. A second-row wireless charger, Wi-Fi hot spot, and a 26-speaker Burmester audio system are optional. We expect the 2022 model to share a lot of the same features as the current GLS.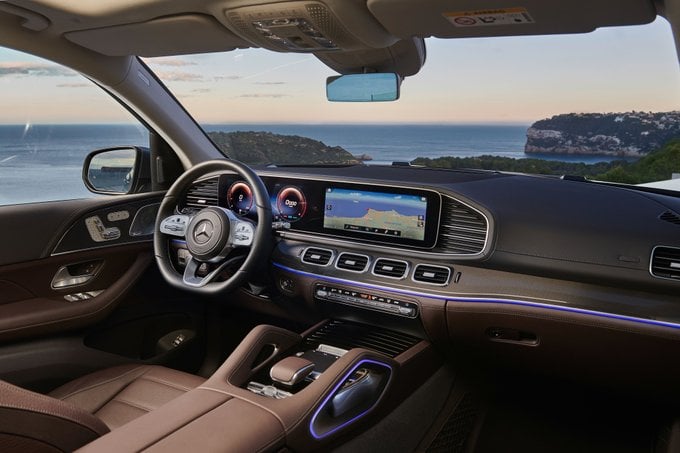 Mercedes offers three engines with the current GLS. The base engine is a turbocharged 3.0-liter inline-six that produces 362 horsepower. The next step up is a twin-turbocharged 4.0-liter V8 that's rated at 483 hp. The AMG GLS 63 features a performance version of the V8 that makes 603 hp. All three engines are paired with a nine-speed automatic transmission and route power exclusively through an all-wheel-drive system. The same powertrains are expected to be offered on the 2022 GLS.
When it comes to standard safety features, the 2022 Mercedes-Benz GLS will share a lot of the same features as the current model. We expected forward collision warning, blind spot monitoring, automatic emergency braking, a driver drowsiness monitor, park assist, a surround-view parking camera, vehicle exit warning, and Pre-Safe, which prepares the SUV for a collision, to be standard.