With the debut of the redesigned 2021 Mercedes-Benz S-Class, the large luxury sedan enters its seventh generation. This redesigned luxury model will boast an all-new look, updated MBUX infotainment system, a larger body, and updated powertrain options.
Starting on the outside, the 2021 S-Class gets an all-new body that's 1.3 inches longer and 0.4 inches taller. It also rides on a 2-inch-longer wheelbase. On top of being larger, the 2021 S-Class' design is all-new with redesigned headlights, grille, hood, and taillights that better match the latest Mercedes-Benz design language seen on the new A-Class and CLA-Class. The new design is far softer than the current model with its smooth hood and limited sharp creases.
Inside, the 2021 S-Class looks ripped straight from the future with its 12.8-inch OLED infotainment screen and 12.3-inch digital dash. It also continues with premium materials and features, including diamond-quilted seats, glossy wraparound trim, a 125-watt nine-speaker audio system, and active ambient lighting. Optionally, buyers can add a 7-inch rear MBUX tablet, 11.6-inch rear displays, a 710-watt 15-speaker Burmester 3D audio system, and a 1,750-watt 30-speaker Burmester 4D audio system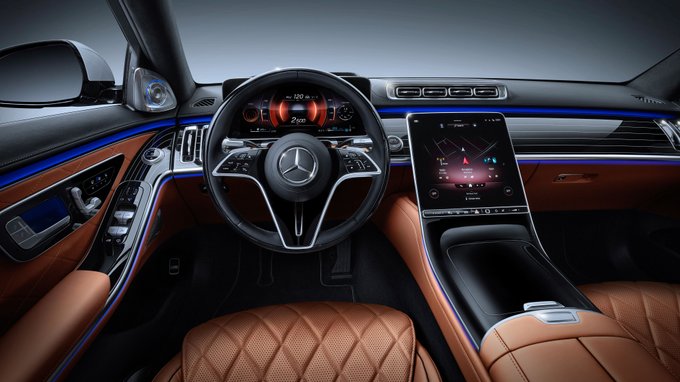 The 2021 S-Class will come in two flavors: S500 4MATIC and S580 4MATIC. The S500 4MATIC will boast a mild-hybrid 3.0-liter turbocharged inline-six engine that pumps out 429 horsepower and 384 pound-feet of torque. The S580 4MATIC will feature a twin-turbo mild-hybrid 4.0-liter V8 that delivers 496 hp and 516 lb-ft of torque. Both powertrains' mild-hybrid systems include an extra 21 hp and 184 lb-ft of torque from EQ Boost. All 2021 S-Class models include a nine-speed automatic transmission and all-wheel drive.
The 2021 S-Class will come standard with a wide range of advanced safety systems, including adaptive cruise control, automatic emergency braking, lane-keep assist, traffic-sign recognition, lane-change assist, driver alertness monitoring, evasive steering assist, and more.