Mitsubishi's little electric runabout returned for 2016 after a year's absence from the company's lineup. The revived version is essentially identical to i-MiEVs produced for 2012 and 2014. The i-MiEV is precisely the kind of vehicle that many people still visualize when they hear the words "electric car." This futuristic-looking little four-seater can't go very fast, or travel very far without recharging. Yet, if you can live within its limitations, it's a highly practical and functional transportation module, light in weight, that's surprisingly pleasant to drive.
What's New for 2017
Revived last year, the i-MiEV is a carryover for the 2017 model year except for the elimination of one body-color choice, leaving three possibilities.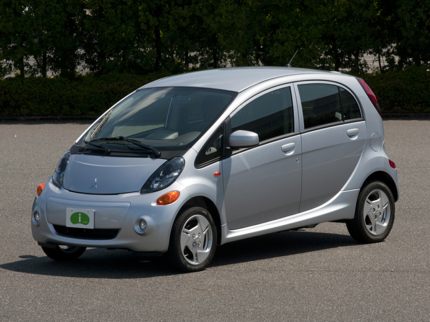 Choosing Your Mitsubishi i-MiEV
The i-MiEV is a fully electric car with a 16 kWh lithium-ion battery and a 66-horsepower (49 kW) electric motor, driving the rear wheels. Base MSRP remains $22,995, plus destination charge—not including federal and state electric-car incentives. Subtract Uncle Sam's $7500 (maximum) bonus, check to see if your state offers any additional rebates, and the total effective purchase price could drop to the mid-teens. That combination of potential incentives can make the i-MiEV not only the least expensive electric car on the market, but one of the most affordable automobiles of any kind.
Mitsubishi has kept its option list to a minimum. The i-MiEV comes in one trim level (ES), which includes standard lightweight 15-inch alloy wheels, a six-speaker stereo/CD/MP3 player, electric heat and air conditioning, and heated front seats. The lone major available option is an electronics package that includes a navigation system, Bluetooth connectivity, steering-wheel controls, 7-inch touchscreen, and a rearview camera, adds $2,000 to the bottom line. Several accessories, such as an LED illumination kit, rear parking sensors, and cargo management package, also are available.
In a slow-speed urban or suburban setting, the i-MiEV is not only practical but engaging and enjoyable to drive. The electric motor's instant, abundant torque (145 pound-feet at zero RPM) can get the car away from stops smartly. The big surprise is its excellent blend of ride comfort and handling. The i-MiEV drives with a gratifying sense of directness, absorbing bumps and pavement irregularities without becoming wallowy or brittle. Most definitely, it doesn't feel like a typical battery-powered model.
Move up to highway speeds, in contrast, and the i-MiEV quickly reaches its modest limits, draining the battery at a considerable rate while striving to keep up with fast-moving traffic. The i-MiEV will run for an estimated equivalent of 112 MPGe, according to the EPA's city cycle test, but the more realistic mixed-driving rating is 59 miles.
Charging time from a 240-volt/15-amp Level 2 outlet is approximately 7 hours. One of the increasingly popular CHAdeMO (Level 3) public quick-chargers can boost a flat battery to an 80% charge in less than half an hour.
An i-MiEV will seat four adults, although no one will have an excessive amount of stretch-out space. Interior fittings tend toward the basic: the dominant theme is plastic in simple shapes, and such luxuries as power seats are not available. On the other hand, the leather-wrapped steering wheel and shift knob add a touch of class. Even given the i-MiEV's basic nature, a suite of safety features—including side-curtain airbags, effective crumple zones, and a high-voltage battery cutoff—is standard. Modern active-safety features are not offered.
CarsDirect Tip
Unless you intend to put business graphics all over your i-MiEV, you might want to pick a color other than white, which makes the car look like a large household appliance. At $2,000, the navigation system is rather expensive, and probably unnecessary for a vehicle which by nature will spend most of its life close to home. Otherwise, the i-MiEV is an enjoyable low-cost, eco-friendly option for short-range commuter and city duty.
Get your price on a Mitsubishi i-MiEV »