The Nissan Armada was last all-new in 2017 when the Japanese automaker gave its full-size SUV a full redesign to be more competitive in the popular segment. More recently, the Armada received a light refresh in 2021. Coming off of a recent refresh, we expect the 2022 Nissan Armada to be a carryover model.
When Nissan unveiled the updated Armada in 2021, the full-size SUV looked far more upscale and modern. The current SUV wears an oversized version of Nissan's familial grille and sits in between square headlights. Looking at the Armada from the side showcases its boxy, enormous structure. At the back, the SUV wears relatively small taillights that are connected with a horizontal trim piece, while the chunky rear bumper gives it a rugged edge. The exterior design should remain the same for the 2022 Nissan Armada.
On the inside, the current Armada features a high-end look. As a carryover model, we expect the current interior design to go unchanged for the 2022 Nissan Armada. The center console layout is a highlight of the cabin, as the touchscreen protrudes from the top of the dash, while vents separate the screen from the HVAC controls. Both the infotainment and HVAC systems feature large dials and buttons for ease of use.
On top of a 12.3-inch touchscreen, Nissan offers the current Armada with navigation, Wi-Fi hot spot, six audio speakers, wireless smartphone charging, Bluetooth, satellite radio, wireless Apple CarPlay, and Android Auto compatibility as standard. Optional features include a rear-seat entertainment system and a 13-speaker Bose audio system. These technology features will continue to be available with the 2022 Nissan Armada.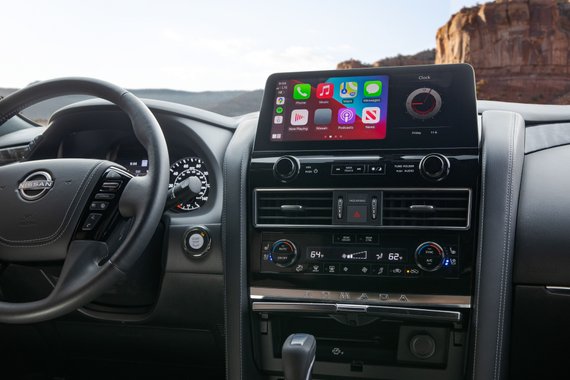 Power for the current Armada comes from a 5.6-liter V8 engine that makes 400 horsepower. The engine is paired with a seven-speed automatic transmission and routes power to the rear wheels as standard. A four-wheel-drive system is optional. This engine will continue to be the only one available for the 2022 model year.
Nissan offers the current Armada with an extensive list of standard safety features. Pedestrian detection, forward collision warning, adaptive cruise control, automatic emergency braking, driver drowsiness monitoring, blind spot monitoring, lane keeping assist, lane departure warning, rear cross traffic alert, and parking sensors are all standard. Traffic sign recognition and a surround-view parking camera are available.