Unlike other websites and magazines, our ratings are not based solely on a singular road test, but rather a more encompassing batch of criteria: quality, safety, comfort, performance, fuel economy, reliability history and value. When comparing vehicles using our Rating System, it's important to note that the rating earned by each vehicle correlates only to the models within its class. For example, a compact car cannot be compared to a SUV—They are different vehicles altogether.
You can interpret our ratings in the following way:
5-Star: Outstanding vehicle. Only the most exceptional vehicles achieve this rating.
4-Star: Very Good vehicle. Very good and close to being the best vehicle in its class.
3-Star: Good vehicle. Decent, but not quite the best. Often affordable, but lacking key features found in vehicles of the same class.
2-Star: Below average vehicle. Not recommended, and lacking attributes a car buyer would come to expect for the price.
1-Star: Poor vehicle. Simply does not deserve to be on the road.
Get Custom Price Quote
2023 Porsche Panamera Overview
What's New
The 2023 Porsche Panamera continues without significant changes while its redesign is expected next year.
Choosing Your Porsche Panamera
There are 10 trim levels for the 2023 Porsche Panamera: Base, Platinum Edition, 4, 4 Executive, 4 Platinum Edition, 4S, 4S Executive, GTS, Turbo S, and Turbo S Executive with base prices ranging from $93,850 to $198,250.
Engine Choices
The Panamera is offered with three general powertrains. The "S" variants receive revised tuning for more power while the "Turbo" nomenclature represents the powertrain with the highest output, as all configurations are turbocharged.
Rear-wheel drive is standard while those with a "4" designation specify an all-wheel-drive layout. The E-Hybrid is a plug-in hybrid and features a 17.9 kWh battery and a 100 kW motor. The top speed in electric-only mode is 87 miles per hour. All powertrains are mated to an eight-speed dual-clutch automated transmission.
| | | | |
| --- | --- | --- | --- |
| Trim | Powertrain | Horsepower/Torque | Fuel Economy (Combined) |
| Base, Platinum, 4, 4 Platinum | 2.9-liter turbocharged V6 | 325 hp / 331 lb-ft | 20 MPG (19 mpg with Executive/ Long-wheelbase) |
| 4S | 2.9-liter turbocharged V6 | 443 hp / 405 lb-ft | 20 MPG |
| 4 E-Hybrid | 2.9-liter turbocharged V6 with an integrated plug-in electric powertrain | 455 hp / 516 lb-ft | 52 MPGe with 19 miles of EV-only range |
| 4S E-Hybrid | 2.9-liter turbocharged V6 with an integrated plug-in electric powertrain | 552 hp / 553 lb-ft | 50 MPGe with 19 miles of EV-only range |
| GTS | 4.0-liter turbocharged V8 | 473 hp / 457 lb-ft | 17 MPG |
| Turbo S | 4.0-liter turbocharged V8 | 620 hp / 604 lb-ft | 17 MPG |
| Turbo S E-Hybrid | 4.0-liter turbocharged V8 with an integrated plug-in electric powertrain | 690 hp / 641 lb-ft | 48 MPGe with 17 miles of EV-only range |
Passenger and Cargo Capacity
There are three body styles for the Panamera: hatchback, extended-length hatchback (Executive), and station wagon (Sport Turismo). The Panamera is standard with four seats while the Sport Turismo can fit five, albeit very snugly.
The standard model is 198.8 inches in length and rides on a 116.1-inch wheelbase. The Executive trim adds about $11,000 to the sticker and extends the length and wheelbase by six inches and which all goes towards rear seat legroom which extends from 33 to 38 inches - more than its Mercedes-Benz and BMW competitors. The Executive trim also adds rear seat power adjustability with memory, comfort headrests, and heated front and rear seats.
The standard Panamera's 17.6 cubic feet of cargo space behind the rear seats is large for the class and the standard split-folding seats increase that further to 52.6 cubic feet. The Sport Turismo utilizes the standard-length wheelbase platform and its wagon-esque shape offers up to 18.3 cubic feet of cargo space in the boot.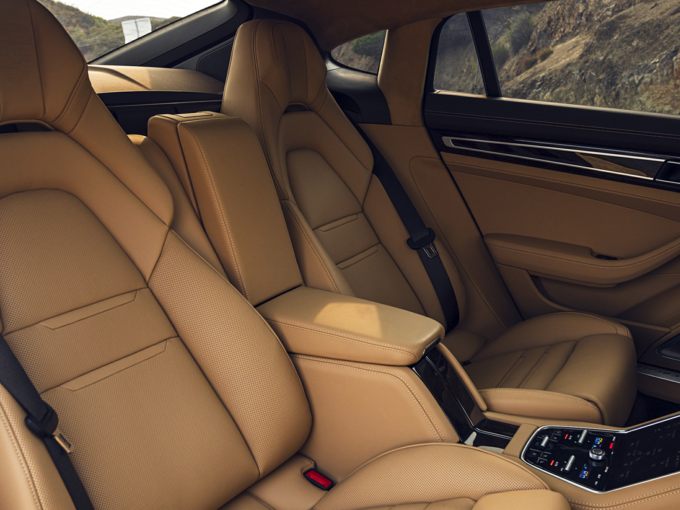 Safety Features
The 2023 Panamera is equipped with automatic emergency braking, adaptive cruise control, lane keep assist with traffic sign recognition, lane change assist, and parking sensors. Traffic jam assist with lane centering, a surround-view camera, a head-up display, and upgraded headlights through the Assistance Package. The Turbo S additionally offers night vision.
The Panamera has not been rated by IIHS or NHTSA.
Connectivity
The Panamera features a crisp landscape 12.3-inch touchscreen with Apple CarPlay, Android Auto, SiriusXM, HD Radio, and navigation. A Wi-Fi hotspot and remote services are also included. Charging is handled by four USB charging ports, a 12-volt outlet, and a 240-volt outlet located in the center console.
The Premium Package upgrades the standard 10-speaker sound system to a Bose unit with 14 speakers and 710 watts while a Burmester system packs 21 speakers and a total of 1,455 watts for $7,530. There are no fewer than 24 different Panamera configurations offered with five primary trim levels. Not all trims are available in all body styles or powertrains.
2023 Porsche Panamera Base - MSRP From $93,850
The base trim is equipped with adaptive dampers, staggered 19-inch wheels, a panoramic sunroof, black window surround, black fender vents, a power tailgate, an active rear spoiler, dual tailpipes, LED headlights with signature four-point LED daytime running lights, LED tail lights, rain-sensing wipers power-folding auto-dimming heated mirrors, stepless door hinges, push-button start, dual-zone climate control, a gauge cluster featuring a centered analog tachometer and two flanking digital displays, a leather-wrapped steering wheel with paddle shifters, and high-gloss black interior trim.
There are two packages available that capture many of the most desirable features. For $8,020, the Premium Package adds adaptive air suspension, dynamic headlights, soft-close doors, four-zone climate control, 14-way power seats with ventilation in the front row and heating in the rear, the Bose sound system, and ambient lighting. The second package is the Assistance Package for $2,750.
Porsche offers an exhaustive list of individual options too. Among the most noteworthy are leather seats ($3,790), 18-way sport seats ($3,100), eight-way power rear seats for $2,020 (which also require a rear sunblind for $490), and massage seats for $2,040. The chassis also offers upgraded equipment such as the Sport Chrono Package which brings sportier driving modes for $2,290, rear-axle steering ($1,650), and Porsche Carbon Ceramic Brakes that cost $8,970.
The base level of the Panamera 4 adds all-wheel drive and has a base price of $98,450 while the 4 Sport Turismo starts at $104,650. The 4 E-Hybrid ($110,450) also includes green brake calipers, the Sport Chrono Package, and adaptive air suspension as standard.
2023 Porsche Panamera Platinum Edition - MSRP From $107,750
The Platinum Edition includes the features of the base trims' Premium Package and adds 21-inch wheels with a platinum finish, gloss black exterior trim and emblems, black sport exhaust outlets, and black tail lights. Inside, there is the upgraded steering system with a GT steering wheel, 14-way power adjustable seats, heated rear seats, brushed black aluminum trim, and an analog clock on top of the center of the dash. The Sport Turismo is not available in this trim.
The similarly equipped 4 Platinum is $111,950 and 4 E-Hybrid Platinum, which builds off of the standard E-Hybrid, is $121,450.
2023 Porsche Panamera S - MSRP From $112,350
All S models are fitted with four-wheel-drive, however, the list of notable creature comforts is nearly identical to the respective base version. The 4S is $112,350, the 4S Sport Turismo is $118,550, and the 4S E-Hybrid is $120,650.
2023 Porsche Panamera GTS - MSRP From $136,650
The GTS enhances the sporty character of the Panamera, just as it does for other Porsche models. It features adaptive air suspension with a 10mm lower ride height, an upgraded sport suspension and enhanced chassis control systems, staggered 20-inch wheels, red brake calipers, the Sport Chrono Package, a sport exhaust system with quad outlets, and leather and suede 18-way sport seats. The GTS is not offered in the long wheelbase but it is offered in the Sport Turismo body style with a starting sticker of $142,850.
2023 Porsche Panamera Turbo S - MSRP From $187,850
The top-of-the-line trim adds Porsche's carbon ceramic brake system with yellow painted brake calipers, an automatic brake-actuated rear differential, rear axle steering, twin brushed stainless steel exhaust tips, leather seats, and the Bose sound system. The Turbo S Sport Turismo is $191,850 while the Turbo S E-Hybrid sedan and wagon push starting prices to $197,850 and $201,850, respectively.
Compare Panamera Trims Side-By-Side
CarsDirect Tip
Porsche provides a wide range of powertrains, body styles, and features but the Panamera quickly becomes very expensive. We'd stick with the base trim and add the Premium Package and the Assistance Package for premium features and additional safety equipment.