Other than a few nips and tucks here and there, the Subaru BRZ has remained mostly unchanged since it debuted alongside its Scion FR-S (now the Toyota 86) near-identical twin back in 2013. BRZ fans have clamored for a redesigned version for a while now, and the automaker will oblige with the all-new 2022 Subaru BRZ.
The 2022 Subaru BRZ will retain its predecessor's traditional sports car proportions and cab-rearward design, but it'll gain an all-new look, including a 1.2-inch-longer body, a 0.5-inch-lower roofline, bold fender arches with large front air vents, a narrowed greenhouse, side-sill spoilers, powerful rear fenders, and a rear duck-tail spoiler. The BRZ will maintain its calorie-watching ways with an all-aluminum roof, front fenders and hood, which will keep its curb weight at an estimated 2,815-2,881 pounds.
Inside, the 2022 Subaru BRZ will be all-new, but it'll retain the current model's retro-inspired simplicity with a clean layout, circular air vents, a simple three-spoke steering wheel, round HVAC controls, retro toggle switches, deep bucket seats, excellent outward visibility, and more. Though it may look low-tech, the 2022 BRZ will feature plenty of modern tech, including a 7-inch digital instrument cluster with a programmable meter and a Starlink infotainment system with an 8-inch touchscreen and standard Apple CarPlay and Android Auto.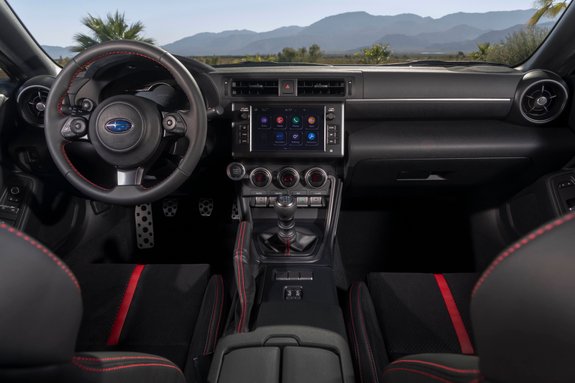 BRZ fans have begged for a from-the-factory turbocharged model, but Subaru will again ignore these requests. Instead, the 2022 BRZ will feature a new 2.4-liter boxer-four engine with 228 horsepower and 184 pound-feet of torque – gains of 23 hp and 28 lb-ft. This engine will pair with a standard six-speed manual transmission, but there will be an optional six-speed automatic.
The wheelbase will grow by just 0.02 inches, resulting in longer overhangs than the current BRZ, but it'll boast a perfect 50-50 weight distribution. Other chassis updates will include a reinforced mounting system, subframe and other connection points, which will result in a 60% increase in front lateral bending rigidity.
The manual-equipped 2022 Subaru BRZ appears as if it'll continue with no advanced safety gear. However, those with the optional six-speed automatic gearbox will come standard with EyeSight Driver Assist Technology, which will include automatic emergency braking, lane-keeping assist, adaptive cruise control, and more.