Unlike nearly every other automaker, Tesla doesn't use traditional model years. So, while we consider the upcoming Tesla Model 3 to be part of the 2023 model year, the automaker may have other plans. Either way, we expect the Model 3 to arrive with incremental changes.
The exterior design of the 2023 Model 3 should remain the same as the current sedan that's on sale. The sedan features an aerodynamic design with smooth lines and edges. The front end has a noticeably grille-less design with a rounded front fascia and swept-back headlights. The Model 3 has a flowing roofline that leads directly into a spoiler, while the smooth rear bumper, aerodynamic wheel designs, and flush door handles are other interesting traits.
The current Model 3 features a high-tech, but simple interior design. The straightforward dashboard only has one defining element – a massive touchscreen that's located front and center. The Model 3 has minimal physical controls that give the cabin a high-tech look. Large windows and a simple design give the Model 3's interior an airy feel. We don't expect Tesla to make any changes to the Model 3's interior design for 2023.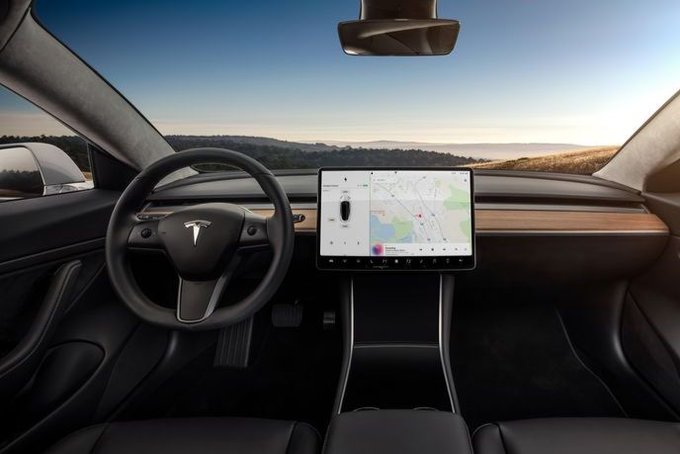 Standard features on the current Model 3 include a 15-inch touchscreen, navigation, Bluetooth, a Wi-Fi hotspot, a wireless charging pad, and an HD Radio. These features should continue to be offered on the 2023 Model 3.
Tesla offers the current Model 3 with two different powertrains. The base Model 3 starts off with a single electric motor on the rear wheels. Higher trims come with dual electric motors and all-wheel drive. Tesla doesn't provide power figures for its vehicles. The Model 3 can travel between 272 miles and 358 miles depending on the configuration. We could see Tesla improve the Model 3's range or performance for 2023.
Every Model 3 comes standard with Tesla's Autopilot system. The system includes forward collision warning, automatic emergency braking, pedestrian detection, adaptive cruise control, lane departure warning, parallel park assist, blind spot monitoring, a surround-view camera, and parking sensors. These features will continue to be standard for 2023. Tesla will also offer Enhanced Autopilot and Full Self-Driving Capability as options.