What's New
Tesla doesn't follow traditional model years like other automakers, but the 2023 Model 3 hasn't received any major updates since last year. The big news for the small electric sedan is that it's eligible for the $7,500 federal tax credit again.
Choosing Your Tesla Model 3
Tesla has adjusted the price of the Model 3 multiple times this year. At the moment, the electric sedan starts at $44,880 (including destination, but not the extra savings that Tesla touts) for the base Model 3 Rear-Wheel Drive. The Model 3 Performance costs $55,380.
The Model 3 Long Range is not available on Tesla's website. The model is expected to become available again later this year. Pricing is expected to start around the $53,000 mark.
Engine Choices
The Model 3 is an all-electric sedan that's available with three different electric configurations, at least when the Long Range trim returns. The base Model 3 comes with rear-wheel drive and a single electric motor on the rear wheels, while the Performance and Long Range trims have two electric motors and all-wheel drive. All Model 3 sedans come with a single-speed transmission.
Tesla doesn't provide a horsepower figure for its EVs, but it's clear to see that the dual-motor models bring far more performance with quicker zero-to-60-mph times than the standard rear-wheel-drive model.
When it comes to charging, the Model 3 can get 3 miles of range back every hour when plugged into a 120-volt plug. A Level 2 240-volt charger will bring 44 miles of range in an hour. The Model 3 can also be charged at one of Tesla's Supercharger stations that can give the Model 3 200 miles of range in just 15 minutes.
| | | | |
| --- | --- | --- | --- |
| Model | Engine Type / Range | 0-60 mph Time | MPGe (city/highway) |
| Rear-Wheel Drive | Electric motor / 272 miles | 5.8 seconds | 138 / 126 |
| Long Range | Dual electric motors / 358 miles | 4.2 seconds | 134 / 126 |
| Performance | Dual electric motors / 315 miles | 3.1 seconds | 118 / 107 |
Passenger and Cargo Capacity
All Model 3 trims offer seating for up to five people. The sedan has a traditional trunk and a storage compartment under the hood. Together, the Model 3 offers up to 23 cubic feet of cargo space.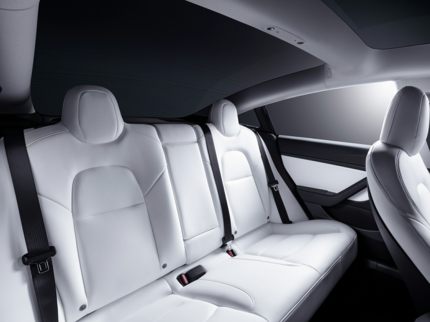 Safety Features
Every Model 3 comes with Tesla's Autopilot suite of advanced safety features. The suite includes forward collision warning, automatic emergency braking, pedestrian detection, adaptive cruise control, blind spot monitoring, a surround-view parking camera, lane departure warning, lane keeping assist, park assist, and parking sensors.
The Model 3 is available with Enhanced Autopilot that brings Navigate on Autopilot, automatic lane change assist, automatic park assist, Summon, and Smart Summon for $6,000.
Tesla's Full Self-Driving Capability package is available for $15,000. The package brings Enhanced Autopilot, traffic sign recognition, traffic light and stop sign control, and Autosteer on city streets. Tesla is continually working on new safety features that will become a part of the package.
Connectivity
Tesla fits the Model 3 with a standard 15-inch touchscreen that acts as the infotainment system and the primary way to change all of the vehicle's functions since the sedan has minimal physical controls. The Model 3 also comes with a Wi-Fi hotspot, a wireless charging pad, navigation, Bluetooth, eight audio speakers, an HD Radio, and four USB ports.
2023 Tesla Model 3 Rear-Wheel Drive – MSRP From $44,880
The entry-level Model 3 has a strong list of standard features that includes a heated steering wheel, heated front and rear seats, synthetic leather upholstery, 18-inch wheels, a panoramic glass roof, power-adjustable front seats, keyless entry, and a 7.6-kW onboard charger.
2023 Tesla Model 3 Performance – MSRP From $55,380
The sporty Performance trim comes with 20-inch wheels, a carbon-fiber rear spoiler, sport suspension, aluminum pedals, high-performance brakes, and a Track driving mode.
Compare Model 3 Trims Side-By-Side
CarsDirect Tip
With up to 358 miles of range, which is one of the highest figures of any EV on sale, the 2023 Tesla Model 3 Long Range is the best choice in the lineup. We recommend waiting until it becomes available, which should be later in 2023. Enhanced Autopilot is a package that worth's looking into, as it brings high-tech safety features, but we would stay away from Full Self-Driving Capability until Tesla showcases something concrete.