Unlike nearly every other automaker, Tesla doesn't follow traditional model years. This can make it difficult to predict what's going to happen to the brand's vehicles when a new year rolls around. Plus, Tesla changes things like pricing, feature content, lineup, and performance sporadically. For the 2023 Tesla Model S, we expect the large sedan to arrive with incremental changes.
We don't expect to see any changes to the 2023 Model S sedan's exterior design for the upcoming model year. The electric sedan will continue to have a sleek, modern design with diamond-shaped headlights, a slim t-shaped grille, and a smooth front fascia with a prominent air intake. Flush door handles and an elongated rear end gives the Model S a lengthy stance. At the back, the Model S has large oval taillights, a built-in rear spoiler, and a rounded rear bumper.
The interior design of the upcoming Model S isn't expected to change. The large sedan will continue to offer a generous amount of space in both rows, a roomy cargo area with a hatchback trunk, and a streamlined design. The Model S has one of the more high-tech interior designs of any electric car on sale. The yoke-style steering wheel, lack of physical controls, and enormous central display give the Model S a futuristic design.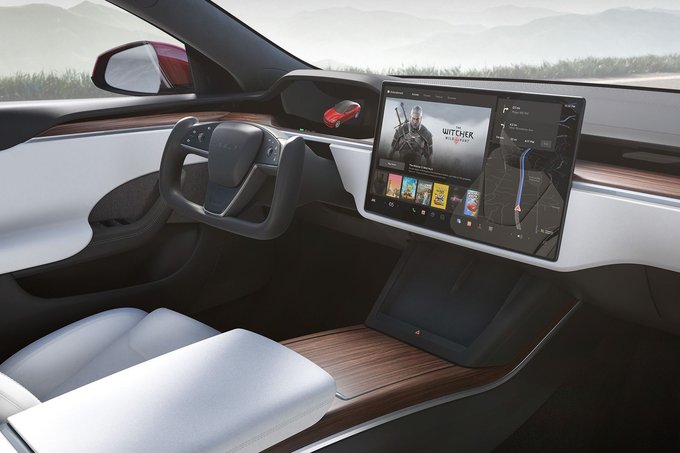 The current Model S is a technological powerhouse and comes packed with cutting-edge tech features. Most of the current sedan's features should carry over unchanged, though the 2023 Model S is expected to receive an updated rear screen. Beyond the change, the Model S will continue to come with a 17-inch touchscreen, navigation, 22 audio speakers, a Wi-Fi hotspot, Bluetooth, a wireless charging pad, five USB ports, and a rear-seat display. Tesla also includes a digital instrument cluster as standard. The current Model S isn't available with Apple CarPlay or Android Auto and we don't expect that to change for 2023.
Tesla currently offers the Model S with two different powertrains. The base Dual Motor All-Wheel Drive configuration has two electric motors, all-wheel drive, and 670 horsepower. With the standard 19-inch wheels, the trim can travel up to 405 miles on a single charge. It's also incredibly quick with a zero-to-60-mph time of 3.1 seconds. The Model S Plaid has three electric motors for a combined output of 1,020 hp. It can get to 60 mph in 1.99 seconds and has a range of up to 396 miles. We could see Tesla boost range and performance for 2023.
Every Tesla comes with an extensive list of safety features that fall under its Autopilot system. Standard safety features include forward collision warning, automatic emergency braking, pedestrian detection, blind spot monitoring, lane keeping assist, lane departure warning, adaptive cruise control, and parking sensors. Enhanced Autopilot will continue to be available for the 2023 Model S, bringing Navigate on Autopilot, automatic lane change, automatic parking assist, Summon, and Smart Summon. Full Self-Driving Capability will also be offered.