Tesla, unlike nearly every other automaker on the market, doesn't follow traditional model years. This makes it difficult to predict what's going to happen for a new model year. The 2023 Tesla Model X is expected to arrive with incremental changes. But with Tesla, anything's possible, as the automaker chooses to do things differently.
The exterior design of the 2023 Model X shouldn't change much compared to the current SUV that's on sale. The electric SUV features a modern design that starts with a clean front end. The Model X has diamond-shaped headlights, a slim t-shaped grille, and high ridge lines on the hood. Along the side, the Model X has flush-mounted door handles and a sloping rear roofline for an aerodynamic design. The back of the Model X has an integrated rear spoiler, taillights that wrap around to the side of the body, and a rear bumper with clean lines.
On the inside, the Model X features a high-tech look that no other vehicle can match. The SUV has a unique yoke-style steering wheel and an enormous central display that takes up most of the space on the streamlined dashboard. The Model X's interior has smooth lines and an expansive windshield that's directly connected to a panoramic roof for an expansive view of what's ahead and above. The impressive falcon doors make egress and ingress into the rear seats easy. We don't expect to see any changes to the Model X's interior design for 2023.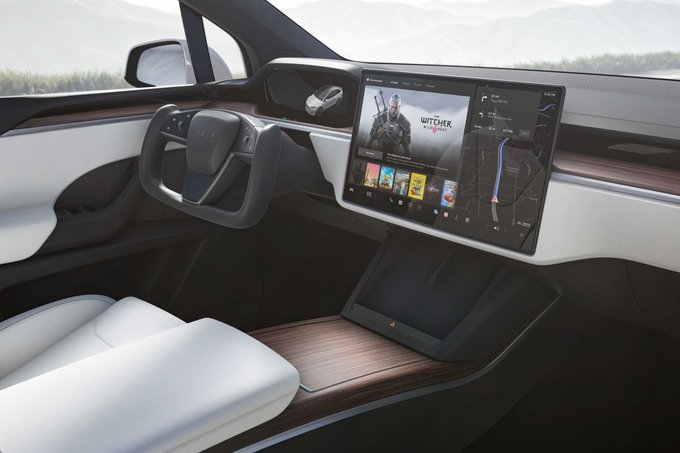 When it comes to tech features, the 2023 Tesla Model X should still be available with the same equipment, though the SUV could be getting a small upgrade. The current electric SUV comes with a 17-inch touchscreen, Bluetooth, navigation, a wireless charging pad, a 12.3-inch digital instrument cluster, an eight-inch rear display, and multiple USB ports. The electric SUV doesn't come with Apple CarPlay or Android Auto. For 2023, the Model X could come with a swiveling central touchscreen.
Tesla currently offers the Model X with two powertrains. We expect these to carry over for 2023, though it's possible that Tesla could boost performance or range. The standard Model X trim comes with two electric motors, all-wheel drive, and a 100-kWh lithium-ion battery pack. The trim makes 670 horsepower and has a range of 348 miles. The available Plaid trim gains an extra electric motor for 1,020 horsepower, while range dips to 333 miles with the 20-inch wheels.
The Model X comes loaded with advanced safety features. Standard features include forward collision warning, automatic emergency braking, pedestrian detection, a surround-view parking camera, lane-keeping assist, blind spot monitoring, adaptive cruise control, parking sensors, and Autopilot. Enhanced Autopilot is optional and brings Navigate on Autopilot, automatic lane change, automatic park assist, summon, and smart summon. Tesla's Full Self-Driving Capability system will also be optional.